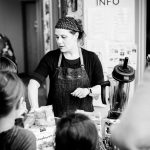 I'm Natasha Nadel, a vegan chef, educator, and author of The Healthy Family, Healthy You Cookbook and The Healthy Mama's Guide to Feeding your Family Well. I created Jews Eat Veggies for YOU! You might want to eat more plants because of concerns for your health, the environment, or the animal industry. You may want to become or already be vegetarian or vegan or that may be the furthest thing from your mind.
My mission is to give you the tools you're looking for to EAT more plants, make easy weeknight dinners, and quick healthy lunches for you and your children. Don't forget the decadent but doable plant-based recipes for Shabbat and holidays. Vegan recipes can be filling main meals that delight all of your senses.
I teach plant-based cooking classes and run workshops and camps for everyone from Jewish day school students to children with special needs and seniors. Jews Eat Veggies is here to support the plant-based revolution and provide resources for those who agree that living a Jewish life should add to our health and happiness, not be a risk factor for heart disease, obesity and Type 2 diabetes.
Community builds physical and mental health, but partaking in all that Jewish life has to offer can sometimes feel like a health hazard. If you're here, I hope you'll join me on my mission to change the present and create a new future where Jewish life builds us up physically and spiritually. (You don't even have to give up dessert!)
Self
Family
Community
Enter your email here to join the JEV journey and receive tips, tricks, tools and recipes in my newsletter.
Let's do this together!
You Got This!