Natasha's Favorite Things
This post contains affiliate links.
Fun Food = Happy, Healthy Eaters.
Many times participants in my "Fruit Funshops" want to buy the fun tools we use so they can enjoy using them at home. I want to make that easy for you. On this page you'll find a number of products I use at home and in the workshops and classes I teach.
Foundational to EATing your veggies around here… the veggie platter! Feel free to go to the dollar store and buy one (or more) for literally $1. If you want to order online, here are some fun options that aren't too expensive. I buy the dollar store ones and always have a much appreciated hostess gift. Of course I fill it with rainbow and/or baby veggies and hummus first!
The Vitamix
It is a lifetime investment in your health. My husband thought it would be like the treadmill in the basement that became a part of my son's toy car track. Now he is a convert to the Vitamix fan club and sees that I use it multiple times a day. It will save you so much time and frustration while providing whole food smoothies, soups, dressings and sauces.
Fruit and Veggie Cutters
Next, in the much less expensive category, are fruit and veggie cutters. Use English cucumbers or soup carrot slices to create fun fruit and veggie platters and lunches. You can even roast tofu shapes!
Crinkle Cutter
Buy a big bag of rainbow carrots and cut purple, yellow, white and orange "fries." Roast them with a touch of olive oil and salt or salt-free seasoning – or just serve them raw!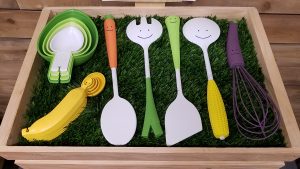 You need these tools! See pictures of Marci Heit's Q.D. Foodie Tools I use with my camps and workshops.
Kids LOVE them. I love them so much I even made my own crock for them at a pottery place. The kids love identifying the fruit or vegetables, such as the artichoke measuring cups and banana measuring spoons.