In-person Camp is Back! Sign up now for 2022 Sessions.
This summer I will hold BOTH of my usual Gap Week Kosher Cooking Camp Sessions IN PERSON. Give yourself a well-deserved break from packing lunches!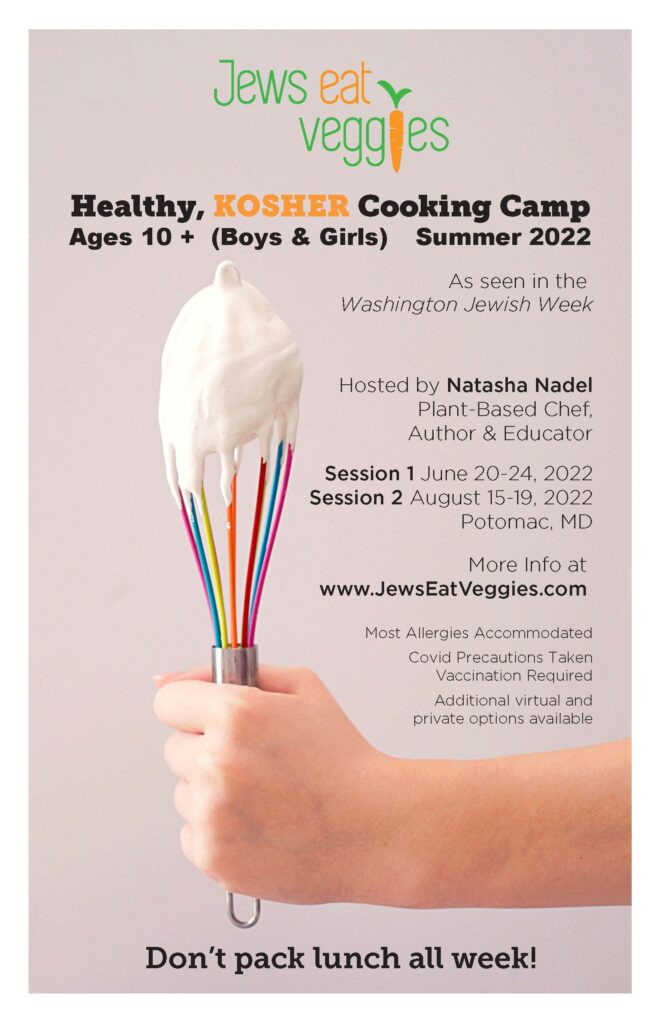 5 years running! Additional on-line and private options TBA. Contact me for specific requests.
Kosher Cooking Camp
Kosher Cooking Camp (Ages 10 and up) at my Kosher home in Potomac, MD. 
Click here to apply for Kosher Cooking Camp.
Link to flyer.
Session #1 June 20-24, 2022. 9am-3pm IN PERSON
Session #2 August 15-19, 2022. 9am-3pm IN PERSON
See the Washington Jewish Week article about my Kosher Cooking Camp
Scroll down to see the best camp testimonials ever!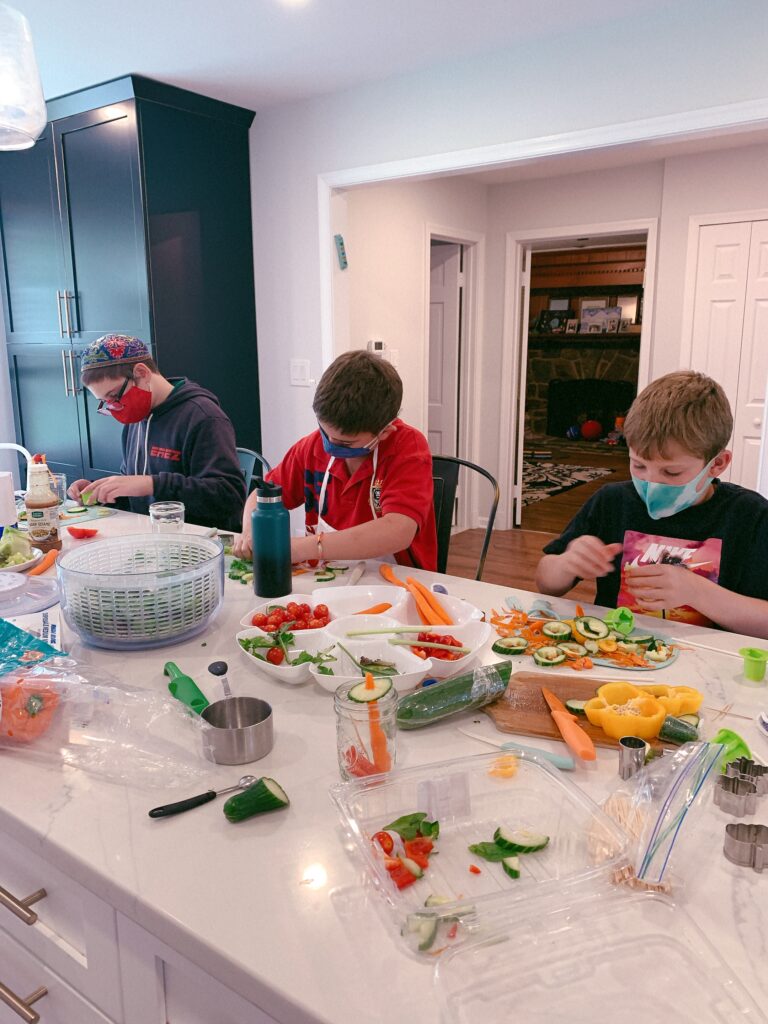 $350 Per session. Campers will cook and eat their own lunch and snacks, every day and take home a Kosher Cooking Camp cookbook at the end of the week.
ONLY 8 SPOTS AVAILABLE in each session.  Strict Covid-precautions taken during Kosher Cooking Camp. In addition, all cooking camp participants must be fully vaccinated. (All staff will also be fully vaccinated).
Contact me with any questions. Click here to apply for Kosher Cooking Camp
I look forward to seeing your children's smiling faces in the kitchen this summer at Kosher Cooking Camp!
All food will be plant-based. Most allergies can be accommodated. Note allergies when you fill out Kosher Cooking Camp application.
Click here to apply for Kosher Cooking Camp
Kosher Cooking Camp Praise from Parents
She had the best week and is still talking about it!
I am ecstatic that my daughter will attend your camp again! She had such an amazing time and still talks about it.
Wow! My daughter said she had a blast – I can see why!
My daughter said EVERYTHING was delicious!
I am amazed by how enthusiastic and adventurous my "extremely picky eater" has been this week. Things she would not touch with a ten-foot pole in my house she came home raving about. [PS, her older siblings are not at all picky, so I have always been quite stymied by her – but apparently you have the magic touch]. :-)"
My son is learning a ton and really enjoying your camp!
My child loved the cooking camp! Thank you for creating such an amazing experience for all of them.
Wow, you made so many amazing, delicious and creative dishes, plus art work.
My son had a BLAST!
The girls are *loving* cooking camp. I can't believe how much you do with them! Daughter #3 has been inspired to do more cooking/food prep on her own. And one evening Daughter #1 made "Miss Natasha Cookies" with Daughter #3 – 100% on their own, no one else even allowed in the kitchen!
Natasha is awesome, creative, a great chef and so funny, not to mention fun!
Thank you for these newsletters! I love reading them! It is like I am going to camp vicariously thru the children!
My son has had a great week!! Again!! Thank U!
Kosher Cooking Camp Praise from Campers
This is the best food I've ever eaten.
I like eating delicious healthy food that I got to make myself!
It's healthy but just as good as the unhealthy versions.
This is the best camp. I'm coming back every year!
This has made me so much less of a picky eater. I want to try everything…and I like it.
It's really fun. I think was really cool to see the kids let out all their creativity. Mrs. Nadel really lets the kids be creative and give their input into the activities.
Virtual Kosher Cooking Camp Testimonials
"OMG, my son is eating spinach. He can't get enough of the strawberry dressing!"
"Thank you for an amazing week of cooking (and yummy food!). The girls had a great time! My youngest got her confidence up and my oldest loved being in the kitchen and trying new things. As the week went on, she was making things for lunch, inspired by your dinner menu. It was great!"
"My kids started this camp as beginners with not much cooking experience. Both have become much more confident using knives and measuring tools and cooking on the stovetop during this camp. They are excited and proud to taste their creations."

"This camp was loads of fun. Spending time with my son, cooking delicious healthy food for our family was a true joy. We learned a lot about cooking technique and healthy eating to boot!"
Click here to apply for Kosher Cooking Camp
For questions about upcoming events and camps, please contact me. For more information about hiring me, please fill out this Workshop Contact Form.