Come to the Party and Healthy Holiday Program!
September 20, 2015 7:30-9:00pm, Chabad of Potomac
Get your signed Healthy Family, Healthy You books there! or…
Get your signed Healthy Family, Healthy You books delivered to your door!
(But we'll miss you terribly at the party!)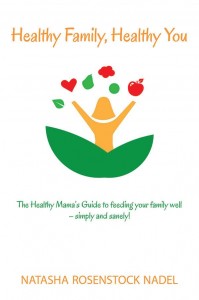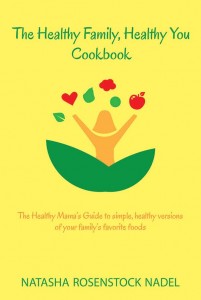 Healthy menu planning, spiritual and practical preparation for the rest of the Yom Tovim. Walk away with new menus, recipes, and inspiration! Both books, light refreshments, program and take home resources all included in event price. Price: $36. Payment (a check mailed or dropped off by me) confirms your book will be ordered and ready for you at the event! (If you don't have my address, email (or PM) me natasha@healthyfamilyhealthyyou.com. To pay by credit card, please click below. Note that the price to pay by credit card ($37.34) includes the $1.34 PayPal fee because a portion of the proceeds will be donated to our host, Chabad of Potomac.
RSVP's needed by September 9 to guarantee book delivery for event. If you RSVP after that, no worries. Come party, but I might have to drop off or ship your books the following week. You'll be too busy with Rosh Hashanah after September 9 anyway, so RSVP and put it on your calendar today!
If you can't make the event but want the books personally signed by moi, click on the 2nd PayPal button below to purchase. I'll make your order, sign the books and ship them out to you. You can also order (non-signed) copies through Amazon shortly before the book launch party.
ALL are welcome as I know  many great, healthy cooks aren't even parents or aren't even married!
If you can't attend the Book Launch Party and Program but want to purchase both books (personally signed by moi), order below!