This post contains affiliate links.
I can't be the only one who just realized Thanksgiving is next week.
I also just realized how small my guest list will be this year and that none of us needs to cook as much as we think we do.
As I recently told you, last year we had about 12 people, but we made so many dishes we had more leftovers than we could use – and wasting food is just wrong. If you serve 8 dishes, no one can have more than a couple of bites of each. At the end of the meal it looked like the platters had barely been touched! I felt ridiculous for having cooked for two days!
Next week is filled with parent teacher conferences and other regular obligations, such as my usual hours of training for the half marathon. I thought about what it might look like to make a big meal – just because we're supposed to make enough for an army and to have leftovers for a week (which means we keep stuffing ourselves with rich foods that make us feel terrible).
What it might look like
My kids will be off school. Instead of spending time together playing outside or doing art projects, the grown ups will be in the kitchen telling them to stay out of their way. The kids will say they want to watch TV but then quickly get bored and try to "help" in the kitchen. Tension will grow and everyone will be miserable while they're supposed to be creating a joyous time. Is time off work and school for stuffing ourselves silly or having fun together? The two are not one and the same.
I often start out with intentions to keep it simple and then get carried away anyway. Not this time!
Here are my 3 rules to keep it simple this year
1. Focus on whole foods, not candied versions of them.
2. Recipes optional.
3. No more than two hours prep!
Sound crazy? It's possible.
I have someone else in charge of the turkey – and I'm eating and providing a vegetarian menu anyway – so let's put that aside for now. If you choose to cook a turkey, live and be well but I certainly can't help you and have no idea how long it takes! :)-
Menu
(Pick and choose from the choices below. Recipes at bottom of post. They can also be found The Healthy Family, Healthy You Cookbook)
"Help, I have to make dinner?!? Shepherd's Pie"
= the easiest main dish ever!
Corn on the cob
Maple Squash Pudding
(or simply bake sweet potatoes – marshmallows on top are optional – and call it a day)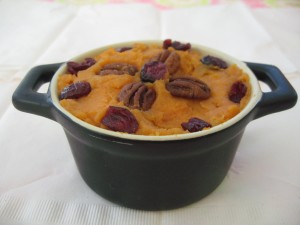 Green Beans
Simply roast in some coconut or grapeseed oil. Throw in some toasted, sliced almonds if you must make it a bit fancier.
Additional dishes, if you're feeling up to it
Brussels Sprouts with fresh cranberries and orange zest
(or simply roast Brussels Sprouts in coconut oil and sprinkle with salt and pepper)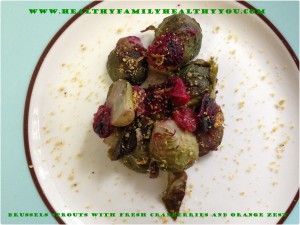 Rainbow carrots
(Cooked from frozen bag or make rainbow carrot fries, using the recipe in The Healthy Family, Healthy You Cookbook.)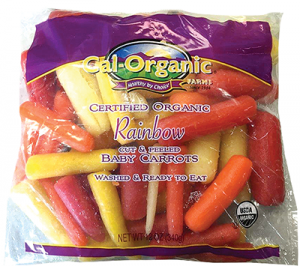 Cranberry Sauce
Easiest side dish ever! See recipe below.
Dessert
A Diana Stobo special recipe (my recollection of it): Stuff a pecan into a medjool date. Sprinkle on some cinnamon if you'd like and bake at 350 until warm.
Or buy a pie!
______
Some people might feel like they need to make a big holiday meal where they cook for two days. That's great. I do that so many times a year I couldn't even count (one of the perils/joys of being an observant Jew!). When it comes to Thanksgiving, I just want to relax. If we don't have enough leftovers for Shabbat, I'll make more of the simple choices.
If you noticed stuffing is missing, you're right. I'm trying to take out all the guilt-inducing dishes. You'll be so full from all the fresh, healthy veggies, you won't even notice it's missing. You can also sit back and enjoy not feeling badly about yourself or like you can't stop shoveling addictive food into your mouth. Enjoy that!
Looking for more easy, healthy recipes?
I gotcha covered with the Healthy Family, Healthy You Mama's Guide and The Healthy Family, Healthy You Cookbook!
Recipes
"Help, I have to make dinner?!?"
Shepherd's Pie
Serves 6
2 15-ounce cans Eden Organic lentils, flavored with onion and
bay leaf 1 15-ounce can organic butternut squash puree (found with
the pumpkin at health food stores and in the natural foods
section of some regular grocery stores)
⅓ cup unsweetened apple sauce
1 cup whole wheat or gluten-free Panko type bread crumbs
Heat oven to 350 degrees. Spray a glass pie plate with non-stick
spray.
Rinse and drain each can of lentils and place bottom of a pie plate.
Spread the butternut squash puree in an even layer over the lentils.
Mix together unsweetened apple sauce and Panko bread crumbs
and then spread evenly over the top of butternut squash puree.
Bake uncovered at 350 degrees until lightly browned on top,
approximately, 30 minutes. Let cool for at least 10 minutes before
serving and be careful it is not too hot before you take a bite!
Tasha's Tip: This dish can be mixed up in the morning and stored
in the fridge covered with plastic wrap. When you return home
from school/work, all you need to do is heat the oven, remove the
plastic wrap and bake as directed.
If you are really feeling adventurous and have an extra few minutes,
you can make individual pies for each member of the family in
small ramekins. That can be fun for kids. In addition, ramekins or
the Healthy Family, Healthy You Cookbook
soufflé dishes make an especially nice presentation.
If you are having guests, this is a very easy recipe to double for a
larger group.
Maple Squash Pudding
Serves 8
When I first tasted the delicious, and later ubiquitous, butternut
squash kugel, I thought I was eating something healthy. However,
there is a reason it tasted like cake: It was cake.
My Shabbat (Sabbath) host readily admitted that the kugel was
full of flour, sugar and oil. That was many years ago. Since then,
some version of squash kugel (made from sweet potatoes,
butternut squash or pumpkin), has graced most Shabbat tables
at which I have had the pleasure of eating, including my own. I
never could bring myself to make the classic recipe.
Instead, for years I used a www.Hungry-Girl.com recipe that called
for egg beaters and artificial sweetener. As I no longer eat animal
products or artificial sweeteners, I had to come up with my own
healthy alternative.
I don't think you will find an easier recipe that can be made so
quickly and for a crowd. For my tester, this has become a dish she
makes regularly for Shabbat, Passover and Thanksgiving.
Tip: If you want to play with the servings, figure that you will use 1
small sweet potato per person or 1 large sweet potato for every two
people. In addition, you will want 1 Tablespoon of maple syrup per
large sweet potato.
4 large sweet potatoes, cooked until completely soft
¼ cup maple syrup
½ to 1 cup dried cherries or cranberries
½ to 1 cup pecans
Heat oven to 350 degrees.
Peel the well-cooked sweet potatoes. If they were cooked earlier,
re-heat them for 2 minutes in the microwave in a glass or ceramic
dish.
Using a food processor, whip the sweet potatoes and the maple
syrup until light and fluffy. You can also use an immersion blender
for this step.
Place the mixture into individual ceramic crocks or 1 large serving
dish and smooth out the top. Decorate with dried cherries and
pecans.
Place in the oven for 25-30 minutes. Serve warm.
Brussels Sprouts with fresh cranberries and orange zest
Serves 10-12
Approximately 2 lbs Brussels sprouts
4 Tablespoons coconut oil, melted
1 cup fresh cranberries
Zest of 1 orange
¼ cup maple syrup
Salt and pepper
Optional: Vegan Parmesan
Heat oven to 400 degrees.
Wash Brussels sprouts (you may be able to buy them already
washed and trimmed). Trim ends off sprouts and remove any outer
yellow leaves. Cut in half. Dry if still wet from washing.
Toss Brussels sprouts with coconut oil and cranberries in a bowl
and place in an 11 x 13 baking pan with low sides. Roast for about
30 minutes total, following these directions: After 15 minutes, turn
over and at 25 minutes add the orange zest. At 30 minutes, Brussels
sprouts should be browned, crisp and done.
Toss with maple syrup and add salt and pepper to taste. Sprinkle
vegan Parmesan on top if using. Serve warm.
Tasha's Tip: You can only buy fresh cranberries in the fall. I buy a
bunch when they are on sale, and put them in the freezer to have
all year round. If you use frozen cranberries, allow them to thaw on
the counter for 20 minutes or so before using in this recipe.
Cranberry Sauce
Serves 6-8
2 cans whole cranberrries
1 can pineapple tidbits in pineapple juice, drained
cinnamon
1 large jar of mandarin oranges, drained
Mix cranberries with pineapple and 1 or 2 shakes of cinnamon.
Pour into beautiful serving dish, such as a crystal bowl. Cover with mandarin oranges. Optional: Dollop with non-dairy whip for serving!