Shifra Klein, Editor-in-Chief, for Joy of Kosher Magazine
This past Sunday I had the pleasure of attending Shifra Klein's presentation for my Chabad Women's Circle. Shifra is the Editor-in-Chief for Joy of Kosher magazine.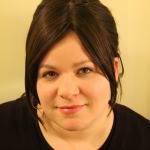 She started out as a foodie, then created Bitayavon magazine with her husband, before joining forces with cookbook author Jamie Geller's Joy of Kosher magazine. We received Joy of Kosher's Purim issue and it is gorgeous! There are endless recipes for every foodie interest and persuasion. It just so happens that this particular issue has a whole vegan section! Every page is full of useful information.
They're currently running a special promotion. See below for more information.
Shifra made a number of delicious dishes, including chocolate mousse, mushroom and sweet potato balsamic salad (in this month's issue) and a green bean salad with mango and pine nuts.
Top 10 Cooking Tips and Tricks
While she cooked, she provided cooking tips and tricks she's learned over the last few years as she transitioned from Foodie to Food Editor.

10. When choosing a non-dairy milk to use in a recipe, keep in mind the following: Almond milk and rice milk are the most watery. Soy milk is the thickest. Coconut milk falls in between, but can sometimes impart a coconut flavor, so don't use it if you don't want it. Shifra made a kale quiche (perhaps I will try with tofu?) and recommended the thicker soy milk for it.
9. To get the most juice from a lemon, first roll it on your counter for a minute to soften the lemon. Then, contrary to popular practice, cut it in half lengthwise before squeezing out the juice.
8. To keep your green beans bright green: Boil them for just a few minutes until they are still firm and green. Then plunge them into an ice water bath (that's the chef's term for a bowl full of very cold water).
7. When you plan to use herbs (such as basil) in a sauce, blanch them quickly, perhaps for 30 seconds, and then plunge them into an ice water bath.
6. You don't want to serve green beans warm because they will turn dull and brownish if you warm them in the oven or on a warming tray. Serve the green beans at room temperature if cold is inappropriate for your dish.
5. Press your tofu before using it. This will get the water out, firm it up and improve the texture. To do this: Drain the water and take the tofu out of its container. Place a towel or several paper towels under and over the tofu. Place something with weight, like a plate or can, on top of the towel(s). Leave the tofu like this for at least 30 minutes. Then remove the towels and pour off any additional water.
4. For fresh, clean mushroom caps, simply peel the tops. Start at the edge and pull up. Keep moving around the top until you've removed all of the skin.
3. To make a recipe vegan, replace honey with agave nectar.
2. To make a non-dairy (vegan, parve) chocolate mousse, simply mix a bag of chocolate chips (pareve, vegan) and 1 cup of hot water. You will want to use a standing mixer so your arm doesn't go numb. That's because it takes about 15 minutes, but keep mixing, and you'll have a fluffy chocolate mousse with no added sugar, oil or eggs.
1. Buy two subscriptions and receive Jamie Geller's new cookbook free! www.joyofkosher.com/freebook