Vegan Purim Success!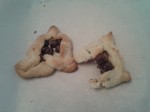 As I start thinking about my first Passover as a vegan (and not just vegetarian), I'm happy to report a successful first vegan Purim. I can't eat most of the candy (good for me!) and had to make my own to get vegan hamantaschen (I hear there is one brand that is vegan. However, every one I've found in the store has food coloring). Now I have to stop eating them!
I made my own vegan hamantaschen, with my own delicious twist: caramelized banana and chocolate. I found the recipe through Food 52, although the author credits it as a copy of a recipe from The Jewish Vegetarian Year Cookbook with her addition of maple sugar. I did not try it with the maple sugar.
I also discovered another use for this dough. Your guests will love you! Keep reading to find out my yummy idea for company.
[See my comments about the recipe in brackets below]
Vegan Hamantaschen Recipe
Makes 24
2/3 cups vegetable shortening or butter substitute [I used Earth Balance coconut shortening for baking]
1/2 cup white or raw sugar [Oh, s#*t. I just realized I misread this and put in 1 cup of sugar! No wonder it was so sweet, like chocolate chip cookie dough. My daughter was shocked when we put this in. She said, "We never make anything with this much sugar!" I told her "It's just for Purim, don't get used to it." No wonder it will be perfect for my second dessert idea….]
1/2 cup well-mashed banana [I used one banana and didn't measure it.]
2 tablespoons water
1/2 teaspoon vanilla
1/4 tsp salt
2 3/4 cups all-purpose flour
jam, Nutella, fruit butter or traditional filling [I used the caramelized banana and chocolate.]
To make the caramelized banana and chocolate filling: Slice 1 banana thinly and cook it for 20 minutes at 300 on parchment paper. I placed one in the middle of each circle of dough and topped it with a few non-dairy chocolate chips.
I also made a few without banana for my daughter
and with raspberry jam for my husband.
That's one thing that's great about hamantaschen. It's easy to customize for everyone.
I also treated myself to a chocolate, walnut and coconut trial. It's not that it didn't taste good. It did. However, I think the walnut didn't work for me because it's crunchy. It's better to have a soft filling in contrast with a soft dough with crunchy corners.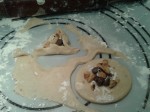 beat together shortening and sugars
add in banana, water and vanilla, beat well. don't worry if the mixture separates out here–it looks ugly but it works!
beat in the salt and flour to make a smooth dough
form a ball, cover and chill for at least 2 hours
on a floured surface roll out to less than 1/8 inch thick. cut 3-inch circles in the dough. it's good to work in batches as the dough softens quickly. you can gather scraps and re-roll them, but put them in the freezer or refrigerator while you deal with your circles.
dot a scant teaspoon of jam or filling in the middle of each circle.
to make the traditional triangle shape: fold one side of the circle, then fold the next third so there is some overlap, then fold the last third. the jam center should still be visible. note: to keep them from opening up, instead of folding up and pinching sides together "up-side" to "up-side", use some of one edge (what used to be facing up) to fold OVER the other edge (what used to be on the bottom), then pinch.
place a few inches apart on parchment-lined cookie sheets (in case of runny jam) and bake at 375F for 12 or so minutes, until you can see some browning. let cool before enjoying–the jam will firm up nicely.
And finally, my other use for this dough...
Especially because I realize now that I made a mistake and used twice as much sugar as I should have, I thought the dough tasted exactly like the raw cookie dough I ate as a child. My daughter gets very excited about my vegan baking batters and doughs because, without raw eggs, she is free to eat it safely (not that kids don't eat it anyway)!
(Safely) Raw Chocolate Chip Cookie Dough Balls
Take the above dough (probably with my mistaken doubling of the sugar!), and mix it with chocolate chips. Form into small balls, place on a cookie sheet covered in wax paper and cover tightly with plastic wrap. Place in the freezer. When you're ready to serve dessert, take them out of the freezer, place on your serving plate and place cute toothpicks in each one, allowing your guests to take them with ease. I promise, they will not believe you the dough is egg-free!