Del Sroufe is known for a few specific accomplishments. First, he wrote the Forks Over Knives cookbook, (although the desserts are by one of my fave vegan chefs, Isa Chandra Moskowitz). Second, he has written a new cookbook, "Better than Vegan."
The reason he wrote this new cookbook highlighting a whole foods, plant-based way of eating, is because of another one of his remarkable accomplishments: Getting up to 475 pounds as a vegan! Yes, as he writes in the book, animal products contain more fat and calories than plant-based foods…However, eating sugar and white bread sandwiches can sure do the job too! If someone has a compulsive eating issue, it doesn't matter which foods they restrict themselves to. They will over-indulge on those foods. When you gorge on donuts, it doesn't really matter whether they're made with butter or non-dairy margarine.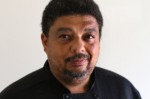 One of the biggest premises of "Better than Vegan", aside from avoiding animal products and focusing on whole, plant-based foods, is to avoid fat and oil. As I've written here before, oil – even olive oil – does not provide you with any nutrients. It simply provides you with fat and calories. Most foods can be made without added oil. Sroufe even avoids coconut and avocado, two high-fat plant foods, as much as possible. In addition he is careful to watch his intake of nuts and seeds. He advises his readers to save their (very low) fat intake for items that do contribute vital nutrients, such as the aforementioned nuts and seeds.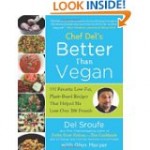 I've learned so many tricks the past few years, as I have transitioned to a vegan (and healthy, whole foods) way of eating. However, this book gave me several new tools that I intend to keep in my every day tool kit. I don't think you can say much more than that when complimenting a cook book. (I hope my upcoming "Healthy Family Healthy You" book does the same for you!). First, here are some of the basics that I will be using daily, from now on. Then I'll show you the Better than Vegan recipes I used them in. First, Sroufe uses cauliflower puree as a base for white sauces, salad dressing, and a replacement for coconut milk. I've already taken the puree and made my own Alfredo sauce recipe (to be shared with my readers in some form shortly).
I'm most excited about his recipe for low-fat mayonnaise, using the cauliflower puree and lite silken tofu. I'm changing all of the recipes in my book that use any type of vegan mayonnaise. Forget low-fat Nayonaise, the vegan option I usually recommend out of a lack of other choices. I made this one today and it is delicious! It tastes better than regular full-fat mayo as far as I'm concerned. However, it doesn't contain a lot of fat and it actually provides nutrients! Can't beat that!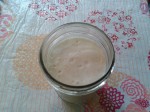 Then I took the Sroufe mayo and made his recipe for Potato Salad. Delish! A little too much mustard for my taste, but I can adjust that next time.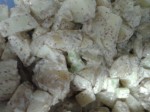 I also made the Spinach Artichoke Dip (amazing, but VERY garlicky for mere mortals, who are not garlic fiends like me). Others may want to adjust the number of garlic cloves. I forgot to mince the garlic first so I ended up completely blending the dip (in order to incorporate all of the garlic cloves), rather than only pulsing the last few ingredients. It's pretty bright green! I'll be interested to see how it turns out next time, when I don't whip the whole thing and leave some of it chunky.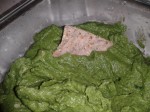 Finally, I made the Tropical "Chicken" Salad. Again, delish! I'm going to be adding it to my Thai Lunch in the Sun Room menu (Let me know if you want me to share that menu on my blog some time, like when spring actually shows up!).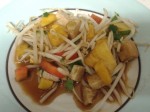 Aside from the cauliflower puree and mayonnaise recipes, there is one other basic that he includes in many of his recipes. He calls it, "Best Date Syrup Ever." No matter how I try I just don't like Stevia, so I left that out of the recipe. The syrup was plenty sweet without it and contributed to the "chicken" salad recipe. Basically, it's a less processed, lower fructose option over the ubiquitous agave nectar (…which I absolutely think is too high in fructose and makes me fat. I just didn't have another great liquid option before the date syrup. Brown rice syrup doesn't always work with every recipe.)
Here's a picture of the date syrup.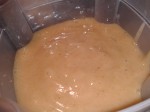 I highly recommend this cookbook and will be adding it to the Resources section of my upcoming "Healthy Family, Healthy You" book. I'll be providing very short vegan cookbook reviews in the Resources chapter. However, if you want more detailed reviews like this in the future, I'm happy to blog them. Just let me know!