New Recipe – Sneak Peek Recipe from the upcoming Healthy Family Healthy You Book!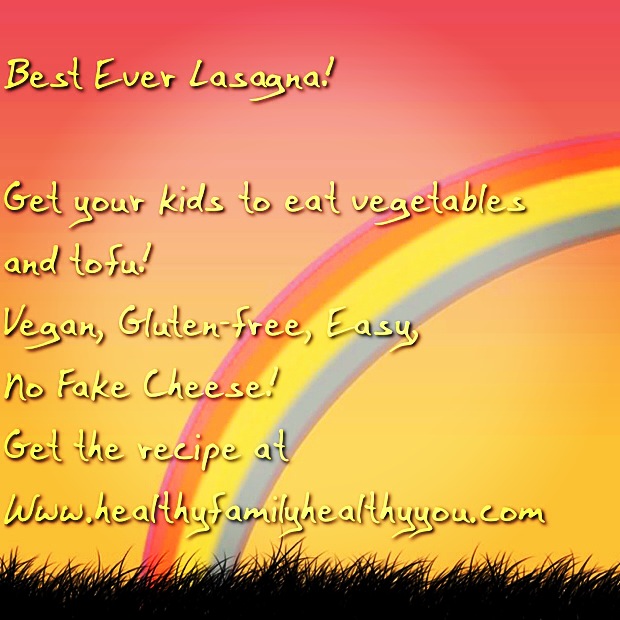 Best Ever Lasagna! Vegan, Gluten-Free, Easy, Healthy. No Fake Cheese!

I made this dish last week for a Succos lunch. One of my guests, a friend's daughter, is wheat-free and hates vegetables. I was sure this recipe would be my best bet. However, even I was surprised and thrilled when she and my other meat-loving guests couldn't get enough of it (The vegetarians loved it too!). This lasagna was such a hit, I could have easily made two pans. My friend asked for the recipe so she could make it for her kids. I did teasingly say, "Buy the book." Of course I was just kidding. I wouldn't dream of making her – or you – wait!
I apologize for my lack of pictures. I was too crazed before yuntof to remember to take them!
Here's the recipe!
Best Ever Lasagna
Ingredients
1 cup frozen,chopped onion
1 16 oz bag of chopped, frozen spinach
(12-14 oz) frozen butternut squash puree
1 package organic silken tofu (1 1b)
1 jar pasta sauce (32 oz) (Pick any flavor you like. I often use garlic or mushroom.)
A few shakes of garlic powder, dried thyme and Italian seasoning
1 package brown rice lasagna noodles (like Tinkyada, 10 oz)
1 jar (16 oz) roasted red peppers
1/8 cup panko bread crumbs (whole wheat or gluten-free)
1/8 cup nutritional yeast
Directions
Preheat oven to 350 degrees. Spray bottom of 13 x 9 lasagna pan with non-stick cooking spray.
Place frozen spinach, onion and squash into glass pie plate or bowl and defrost in the microwave (I used the "vegetable" setting).
Place tofu into pie plate with defrosted vegetables. Add thyme, garlic powder and Italian seasoning and mix thoroughly.
Place one layer of noodles in pan, followed by half of the vegetable and tofu mix. Cover with 1/3 of the bottle of marinara sauce.
Place another layer of noodles in the pan. Cover with the rest of the vegetable tofu mix and another third of the marinara sauce.
Place another layer of noodles in the pan. Cover with the rest of the marinara sauce and then the roasted red peppers (cut open and flatten if still whole).
Mix the Panko bread crumbs and nutritional yeast together in a small bowl. Sprinkle evenly over the top of the red peppers.
Cook for 1 hour, uncovered.
Serves 6-8
I look forward to your feedback!