Chocolate Banana Baked Matzo Brei! (Vegan and whole wheat of course)
I know I said that I don't usually take time to make my own recipes for Passover, given that the holiday is plenty of work already!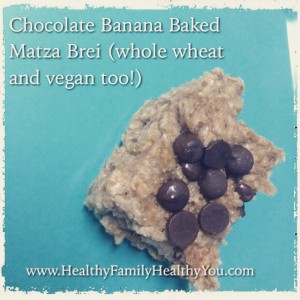 Chocolate Banana Matza Brei
Serves 3
3 whole wheat matzas (or spelt, or regular)
1/2 cup mashed banana (approximately 1 large banana
1 Tablespoon potato starch
1 Tablespoon maple syrup
1 sprinkle of cinnamon
1/4 cup chocolate chips
Optional: 2 Tablespoons sugar
Heat oven to 350. Break up matza, place it in a mixing bowl and soak it in hot water until soft (at least 5 minutes). Drain carefully.
Add banana, maple syrup, potato starch and optional sugar, if using. Mix well.
Place the mixture onto a cookie sheet lined with parchment paper. Spread it out with a fork so that the thickness of it is even throughout. You can also make it round and cut into pizza triangle shapes when it's finished. Lightly sprinkle cinnamon on the top.
Bake for 10 minutes, or until the top is solidified and hardening. Flip the mixture over (it may not stay together perfectly) and bake another 10 minutes, or until the mixture is cooked throughout.
Take the pan out of the oven. Add the chocolate chips on top right away. The heat from the matzo brei will melt them. You can also use a knife or a fork to spread them around and help the process along. Cut into pieces and serve hot!
Provide more maple syrup for those who want it. You can also leave off the chocolate chips for those who don't want them.