Tasha's Tip: This particular blog refers to places local to DC and Maryland. However, wherever you live – and whichever holidays you celebrate – you should find a local place where you can buy food of the same quality, ingredients and calories, as what you would/could make at home. Unless you live in a super rural place, you should be able to find one. And if you do live in a rural place, look harder or ask someone to work with you.
*****
This year's Shavuot schedule is pretty grueling. 3 day yuntov, starting with Shabbat. Get some help and get some with healthy and delicious catering from Soupergirl or 7 Layer catering!
Ask… and you shall receive! All I needed from the universe (well, food related, anyway!) was a kosher vegan meal pick up option. Now, I've got two!
Soupergirl is now officially certified by the Star K and accepted by all. In addition, a new game in town, 7 Layer Catering, is working out of local (Rockville, MD) kosher caterer, Potomac 18, certified by the Capitol K Vaad.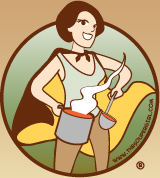 For Soupergirl, you can order weekly delivery, dine in or pick up at their Takoma Park DC store, pick up at their downtown DC M Street store, or pick up from one of many local stores. I love knowing that whatever I buy from here will use the same good quality ingredients I would use at home. Choose from chunky or pureed soups, sandwiches, and salads. They also carry fresh Breadsmith products, such as challah, cornbread muffins and mini baguettes.
Go to www.7layercatering.com
For a 10% off Shabbat special, use promo code: LEKAVODSHABBAT

New Power Lunch special: $8.99 for a main dish, two sides, drink and dessert.
7 layer catering deviled potatoes FINALLY took care of my two year craving (you know, since I became vegan!) for deviled eggs! The Hearts of Palm Salad is refreshing and creamy. The knish has a samosa-like tofu filling. The seitan brisket is amazing. My mom had just made pot roast with egg noodles for my hubby and kids. I took the seitan and mixed it with tofu shirataki noodles (the fettuccine type) and Tofutti sour cream.
Voila! Vegan beef stroganoff! What a guiltless, but indulgent, meal.
Have a wonderful week, weekend, Shavuot and Memorial Day!
Thank you to all of our men and women in uniform who serve our country every day. We mourn those we have lost and honor those who have served.