There will now be TWO Healthy Family, Healthy You books.
If you read this blog regularly, you know I've been working on the Healthy Family, Healthy Book book for over a year. A while back I stopped telling people, "It's not a cookbook," because it was starting to turn into one. I understand why everyone thought that was what I was trying to write. I've previewed recipes on this blog. I've asked you for (and received!) help testing recipes. The truth is, the Healthy Family, Healthy You book was supposed to be 1/3 nutrition info, 1/3 strategy info and 1/3 recipes. Then one day I woke up and realized I had over 100 recipes! I don't know about you, but a book over 300 pages sounded like too long to me!
So, this is what will be:
#1 Healthy Family, Healthy You
The Healthy Mama's GUIDE to Peace, Love & Happiness in the kitchen…and beyond!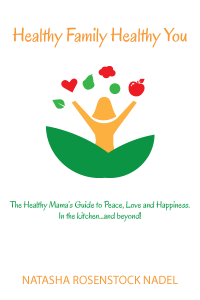 #2 The Healthy Family, Healthy You Cookbook
The Healthy Mama's Recipe for Peace, Love & Happiness. In the kitchen…and beyond!
A companion to the Healthy Family, Healthy You Healthy Mama's Guide.
(COVER COMING SOON)
I'm in the final layout and cover design stages and I can't wait to share the information and my strategies with you and YOUR PEEPS!
I'll be creating book parties that are actually a GIRLS NIGHT OUT. Do you belong to a women's networking group, a mom's group, a synagogue or other women's group? Drop me an email (natasha@healthyfamilyhealthyyou.com) so I can send you more information to see if my program will be right for your group.
Want to help your friends and/or community create their own healthy families and a community of support around eating well?
Would your co-workers benefit from healthy and time saving tips? Let's talk about that too.
I'll also be holding in person workshops for my "3 Weeks to Peace in the Kitchen" program and creating an online version. I look forward to sharing more information and posting sign up opportunities shortly.
In the meantime, please let me know if your group would benefit from empowerment around food and family!
In case you missed it, here is more information about the Healthy Family Healthy You book!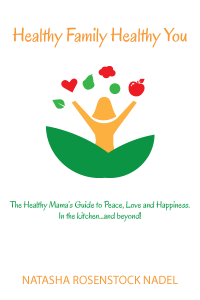 About the Book
Learn how to feed your family right with the least effort and most reward.
It's not what you've heard before.
Here are the tips, tricks and important nutritional information I've discovered while writing about and researching food and health for the past decade. I'm a journalist with no pony in the game or supplement to sell you; just a mom trying to do her best for you and your children's health, happiness and longevity.
Are you looking to create a healthy family, a peaceful kitchen, and a happy you? Can't get your kids to eat healthy food? Don't even know which foods are healthy and which are not? Worried the effort will make you crazy?
If you're looking for happiness and empowerment around food and family, read Healthy Family Healthy You: The Healthy Mama's Guide to Peace, Love and Happiness. In the kitchen…and beyond!
Get clear on what you want for yourself and your family and learn how to make it happen.
Over 50 "Tasha's Tips" to make your life easier, healthier and happier!
The Magic 8 Healthy Family, Healthy You Authorized Fast Food List
Specific Digestible Nutrition Information
Strategies, Substitutions, and a Structure for making lasting changes to your household diet
Set your kids up for a healthy relationship with food and your family for a long, pleasurable life together.
Start feeling happy, healthy and empowered today!