Sunday Morning Pancakes for the Kids!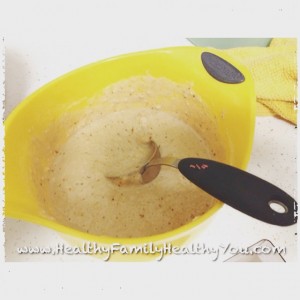 These pancakes call for 1/2 white and 1/2 oat flour. For a completely gluten-free ir wheat-free pancake, I'm sure you could use all Oat Flour and simply add more non-dairy milk if it's too thick. I'll try that next time. Actually, what I'd also like to try is half oat flour, 1/2 almond flour… I'll keep you updated!
Easy Oat Flour Pancakes
Serves 4

Dry Ingredients
1/2 cup all-purpose flour
1/2 cup oat flour
3 teaspoons baking powder
1/2 teaspoon sea salt
2 Optional ingredients: 2 Tablespoons Coconut Sugar (or 1 Tablespoon white sugar)
1/2 teaspoon cinnamon
Wet Ingredients
3/4 cup almond milk (or other non-dairy milk)
1 small banana
2 Tablespoons melted Earth Balance (or other healthier margarine)
Directions
Mix all dry ingredients in 1 medium sized bowl. Set aside.
Mix all wet ingredients in a small bowl, using an immersion blender.
Pour wet ingredients into bowl with dry ingredients. Mix briefly, only enough for all white specs of flour to disappear. You never want to over-mix pancakes batter or it gets tough. I like to use a large serving fork for this type of mixing. It's okay if your batter still has a lumpy texture to it, as long as all the flour is mixed in.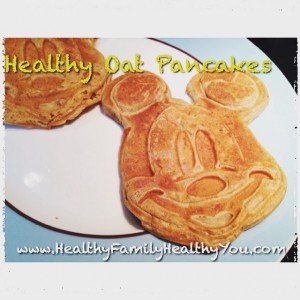 I was making big Mickey Mouse heads in the special Mickey Mouse pancake maker my aunt bought for us. I used 1/2 cup of batter per pancake and this recipe made 4 Mickey Mouse heads. They are relatively large. To make a regular large pancake, using 1/4 cup of batter, this recipe would make approximately 8-10. For smaller pancakes, using 1/4 cup of batter each, the recipe would yield about 16-18 pancakes.
Cook and enjoy! Serve with REAL maple syrup or the following recipe.
2 Ingredient Chain restaurant pancake syrup
Serves 2-4
Do your kids like that awful corn syrup, artificial flavor and food coloring syrup at pancake chain restaurants? Make your own!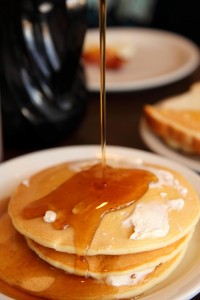 ½ cup maple syrup
½ cup frozen wild blueberries (or other fruit)
Take frozen wild blueberries and defrost them a bit by running hot water over them in a colander (make sure the holes are small enough so that the blueberries won't escape down the drain). Place the defrosted blueberries in a pan with ½ cup of real maple syrup. Bring to a boil and then turn off the heat. Use an immersion blender inside the pot to blend until smooth.
Try the same with raspberry, strawberry, pineapple or mango. (Hey – I didn't say they all sounded good to me. I just know that people all over the country are eating them in the pancake chain restaurants right now.)
Happy Sunday!