This post contains affiliate links.
Let's look forward to a leisurely Mother's Day brunch, one with as little guilt as possible! Pick your treat. Make it high quality and worth the splurge!
My yearly treat for Mother's Day is a box of Dear Coco chocolate truffles (I promise to share).
Although I don't want to be working too hard for Mother's Day brunch, I do want to put in the effort and try this whole carrot lox phenomena (Don't worry…I'll give my fish-eating guests the real thing!). I may even go the extra mile and make a healthier vegan cream cheese. I'll provide you with a recipe in case you decide to make the effort.
My Healthier (Vegan) Mother's Day Brunch Menu
Let the kids make their own fruit kabobs and/or a fruit platter for the table, like the one below using a dollar store deviled egg platter. Let them eat as much as they want while they do this! They'll be both occupied with a craft, while you're getting things on the table, and also not too hungry and cranky by the time you sit down. In addition, eating fruit BEFORE the meal, rather than the customary afterwards, is better for digestion and may prevent stomachaches.
They can also decorate their fruit plate by cutting out the letters for M-O-M using cookie cutters on watermelon, cantaloupe or honeydew. Kabobs can be made in rainbow order or by making fun shapes using fruit and veggie cutters. See the fruit and veggie kabob post for links to the specific products I recommend. For more fruit and veggie platter ideas, see this post.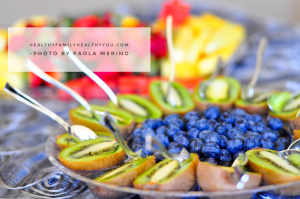 Watermelon Juice (Consider letting someone else be in charge of doing this with the kids. They'll love it, and be occupied for a bit.)
Original recipe below. However, today I added 1 English cucumber, a few fresh mint leaves from the garden (If you live by me, please just come to my backyard and help yourself!), and a teaspoon or two of lime juice. You don't need a juicer. Just blend and strain.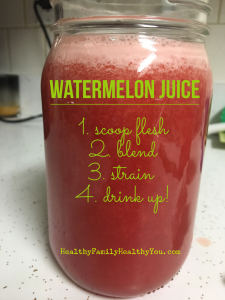 Assorted baby bagels – Oat for me
By ordering baby bagels, everyone can have a couple of flavors without getting uncomfortably full.
Carrot lox (Recipe courtesy of Jewish Veg)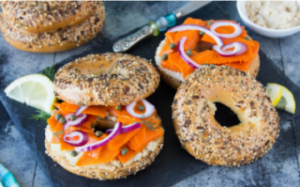 Homemade healthier vegan cream cheese (Recipe courtesy of Jewish Veg)
Sliced cucumber, tomato, lettuce (make sure to slice some for kids to eat and some to fit well on a bagel). Red Onion.
Dear Coco Truffles
Other Options
See previous posts:
5 ideas for Mother's Day Brunch (2016 post)
7 ideas/recipes for Mother's Day (2015 post)
Happy Mother's Day!