Are you planning an Academy Awards party? Complete with popcorn, chicken wings, nachos? I'm actually not quite sure what people usually make for these things since I've never eaten much of this type of food. I guess there are benefits to having a somewhat sensitive stomach. When I would try to eat the cafeteria food in high school (Pizza and fries were my only daily vegetarian option. I honestly couldn't tell you anything else they served.) I would feel sick to my stomach for the rest of the day. I just wasn't born for that much fat and grease.
However, I do love a good pizza, especially one that doesn't leave me feeling fat, bloated and lethargic. Last night I think I made a pizza you'd be proud to serve to your party guests. Complete with yummy comfort food satisfaction, sans the fat. (See below for recipes for the pizza and accompanying kale chips). Roasted red pepper, blended into the pizza sauce adds a sophisticated sweet and smoky flavor.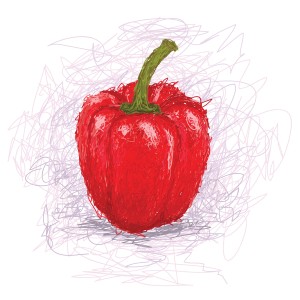 If I've learned anything over the last few years of studying nutrition, it's that fat is responsible for most of our unnecessary calories – and therefore – extra weight. Yes, there are good fats and they are important. Contrary to popular belief, olive oil isn't the pinnacle of good fat. It might be better than corn or peanut oil, but it's not doing you any favors. Just like people are so focused on protein they think chicken and fish are healthy, just because the body needs some fat to function, it doesn't mean it needs oil. If you need to have fat, make it count and consume nuts and seeds that also provide you with vitamins and minerals.  You can get fat with nutrients or fat without nutrients. E.g., oil vs. avocadoes, nuts and seeds.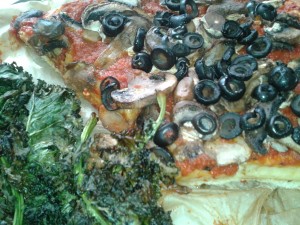 Along the same lines, you can ingest protein in the form of chicken and fish, along with a bonus of cholesterol, fat, antibiotics, hormones, arsenic and other bleaching and germ-killing agents. Or, you can ingest protein in the form of beans and lentils, with the bonus of natural fiber, potassium, magnesium, iron and folate.  For me, there's not really a contest. However, I seem to be in the minority, which is why I'm writing the Healthy Family, Healthy You book and sending you healthy recipes, resources and information through this blog.
In fact, if you are a current subscriber to my blog, you'll be receiving 5 Easy Weeknight Meals by email, in the next week or so. If you are not a current subscriber, I invite you to fill out the little box on the front of the website, or the form on my Facebook page. If you still haven't subscribed by next week, when I send them out, I'll send you a little reminder on Facebook and email. 🙂 Remember, I love my official peeps and you can be one of them by subscribing to the blog.
Thank you in advance and enjoy these recipes in the meantime!
Kale Chips
Ingredients
1 bunch kale, olive oil in spray can, sea salt. Optional: Nutritional yeast, garlic powder.
Directions
Preheat oven to 425. Rinse kale well and dry thoroughly. Line a baking sheet with parchment paper. Spray with olive oil. Place kale (the pieces should not touch one another, so that they will roast, not steam) on parchment paper. Spray with olive oil and sprinkle sea salt or Himalayan pink salt over the kale. Add garlic powder or other spices if desired. Nutritional yeast will provide a bit of a cheesy taste. Roast at 425 for 15-20 minutes. You can turn them over halfway through cooking if you are so inclined.
Pizza
Ingredients
1 1b pizza dough (I used a boule of dough from Breadsmith. They sell whole wheat and white flour dough in bags, as does Trader Joe's.)
2 roasted red peppers (from a jar is fine)
1 (15 oz) can pizza sauce (I used Don Pepino)
1 (8 oz) container of fresh mushrooms
1 (2.25 oz) can chopped black olives
Directions
Preheat oven to 425 or 450. Roll out dough in a round on parchment paper (on a round pizza pan) sprayed with non-stick spray.
Let dough rest for a few minutes. Place the roasted red peppers and pizza sauce in a deep mixing bowl (to prevent staining your clothes) and use an immersion blender to blend the peppers into the sauce. You'll have enough sauce for two pizzas. Take half the sauce and spread it over the pizza dough, leaving some dough without sauce at the edges. Place the mushrooms on top of the sauce and then the olives on top of the mushrooms.
Cook at 425 or 450 for 25 to 35 minutes. Because of the large amount of vegetables on top of the pizza, it will take longer than a regular pizza to cook.
Party/Meal options: Accompany with kale chips and a baby lettuce salad with balsamic vinaigrette.
Enjoy!