3 Ways to Stay Healthy on the Road! Plus 3 Recipes!
Are you traveling later this summer and nervous about access to healthy food? Or, did you already travel and have a disastrous food experience? If so, read on!
I thought it was sometimes hard to be kosher and vegetarian while traveling. Forget it. With this vegan business of mine, my chance of starving, even with a 5 star kosher restaurant in my hotel, is about 90%!
Here's what I've learned that may help you.

3 Ways to Stay Healthy on the Road!
1. Call ahead. Talk to caterers, restaurants, your hosts, whomever is relevant, to plan for your allergies or dietary restrictions. Stress that if what you need is very different from the food they normally make, you have some great, simple ideas; you're happy to help cook; you can even bring some special ingredients or run out to the grocery store.
2. Determine your resources. Will you be staying in a house with access to a full kitchen, a hotel with a microwave and refrigerator, a hotel without either or camping in the outback? Do you have to pack everything in your travel bag or can you hit the grocery store when you arrive at your destination? Make a list of items you can eat with your circumstances and then the corresponding list of foods you need to bring with you and/or purchase at the store. Some items will need to be made ahead of time at home, and some make more sense to prepare at your destination.
3. Determine and plan for your biggest challenges. For instance, if you usually find yourself hungry and buying a sweet roll or fast food on your way to your flight, bring something healthy and satisfying, like my No-Grain Granola/Trail Mix. If you know your kids are going to beg you for unhealthy and expensive snacks, make your own granola bars and bring them with you. If the caterer can accommodate your food requirements for one meal, but not another, plan for that too. For a healthy meal replacement, make my new Basic Travelin' Green Smoothie.

Here are the recipes:
Recipe 1
Grain-free Granola/Trail Mix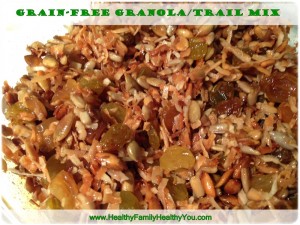 Ingredients
1 Tablespoon coconut oil
1/2 cup raw unsalted pumpkin seeds
1/2 cup raw unsalted sunflower seeds
1 cup unsweetened coconut flakes
1/4 cup golden raisins
2-3 Tablespoons maple syrup
Directions
Preheat oven to 350. Cover a cookie sheet with parchment paper. Melt coconut oil (can use microwave and melt 10 seconds at a time).
Mix pumpkin and sunflower seeds with coconut flakes. Add melted coconut oil and mix well. Spread out on cookie sheet and bake for 4-6 minutes (until slightly browned/roasted but not burned). Don't you dare leave the room or it may burn! Keep a close eye on the oven.
Remove from oven. Place into your storage container (glass works great). Mix in the raisins and maple syrup thoroughly. Enjoy! Keeps at room temperature (for 3 days) or in the fridge (for 7 days).
Recipe 2
Travelin' Green Smoothie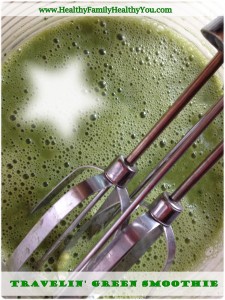 Travelin' Green Smoothie
I bought Teavana's powdered matcha tea for my travelin' greens. I got the idea and information about its health benefits (and a great smoothie recipe!) from my buddy over at Healthful Pursuit.
My recipe is super easy and convenient, whatever your resources. If you have electricity you can use an immersion blender and if you don't, you can simply bring an old fashioned egg beater!
Ingredients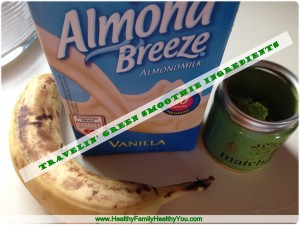 1 very ripe banana
1 teaspoon powdered matcha tea
3/4-1 cup non-dairy milk (I used unsweetened vanilla almond milk)
Directions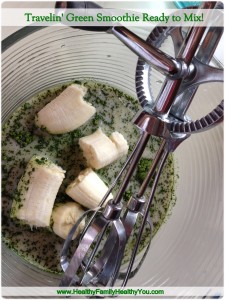 Break up the banana into your vessel. For the immersion blender, they often come with a tall plastic container designed for smoothies. If using an egg beater, you can simply use a wide enough cup. I used a standard tall drinking glass.
Add powdered tea and then add the non-dairy milk.
Mix with immersion blender or egg beater until frothy!
Recipe 3
Easy Granola Bars/Chocolate Chip Cookies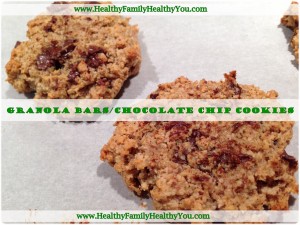 Easy Granola Bars/Chocolate Chip Cookies
You won't find a healthier or easier recipe than this! These also make a great substitute for sandwiches at lunch.
I first made these one morning before taking the kids to school. My hubbie was like, "Okay Mrs. Cleaver. Way to whip up some cookies before school!" Delish! Easy! You CAN do this in the morning!
(Makes 11-13 cookies)
Ingredients
2 bananas
1/2 cup quick oats
1/4 cup ground almonds
1/4 cup flax meal
Dash of real vanilla
Dash of cinnamon
1/8 cup mini chocolate chips
Directions
Preheat the oven to 350. Mash bananas with a fork in a mixing bowl. Add oats, almonds and flax meal, cinnamon and vanilla. Mix well. Add chocolate chips and mix again.
Cover a cookie sheet with parchment paper.
Then…you have to make a decision: Are you making granola bars or cookies?
For cookies, simply take a big spoonful of the mix and place on the cookie sheet. Flatten the top with the back of the spoon. Space 2 inches apart.
For granola bars, dump the whole mixture onto the parchment paper and then flatten with the back of a spoon. When you're done baking the full sheet, use a pizza cutter to cut out bars.
Bake in center of oven 10-15 minutes, with the cookies on the lower end and the bars on the higher end.
Tip: For either the cookies or the bars you can mix in different nuts (whole or ground) and dried fruit, depending on your preferences. However, I will tell you that I tried coconut flakes and the flavor really got lost.
Let me know if you have any travel tips and if these tips work for you!