3 Easy Ways (+ 1 Cookbook!) to Lose Weight by Eating Well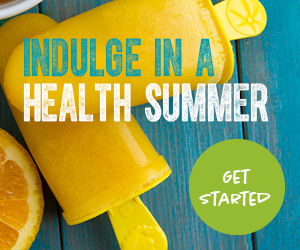 The Healthy Family, Healthy You way says that slow and steady wins the race. That means, eat for health and a healthy weight will follow. The more you eat real food, the more your body will understand when it is truly hungry or just bored, stressed, tired, etc…. In addition, junk food and highly processed food makes us think we're still hungry when we don't need more food.
(Click on the above pictures for a great alternative to summer treats filled with junk!).
Here are a few healthy ways to LOSE weight while you GAIN health.
1. Aim to eat 5-7 servings of fruits and vegetables per day. Instead of focusing on what you CAN'T eat, crowd out the bad stuff with the good stuff. To keep yourself accountable and on track, plan your day ahead of time. How are you going to get there?
Here is 1 example:
Breakfast: Oatmeal with half a cup of fruit (1)
Snack: Apple with 1 TB peanut butter (1)
Lunch: Salad with 2 cups greens, 2 cups mixed raw vegetables, such as red pepper, tomatoes and carrots.(4)
Dressing. A portion of the following recipe: 1 Avocado, 1 roasted red pepper, Juice of 1 lemon, salt and pepper. (1)
Add 1 cup brown rice or quinoa and 1 cup beans. (1)
Snack: Green smoothie with almond milk, 1 banana and 1 tsp matcha green tea powder. (1)
Dinner: Whatevs, baby, you are already up to 9 servings! And does this look like a starvation diet to you? Not for a second! But if you want to be even more of a healthy, energetic rock star, go ahead and make steam bags of frozen veggies and brown rice and ready to eat flavored tofu. Then, treat yourself to a healthy dessert. SEE NUMBER 3 FOR GREAT SUMMER IDEAS!
2. Pair up with a buddy. Have a good friend who is also trying to eat well? Try reporting what you eat to one another for one day. If that feels good, keep going. In the future you may choose only Mondays or Monday through Thursday. Your partnership will support you on the days you need it. Use each others success to keep yourself motivated, enthusiastic, focused and in a positive mindset. Don't underestimate the power of 1 day. Some people get so discouraged that they don't think they can eat as they intend, without "cheating," for even one day. For them, that one day is what they need to move forward to future days. You can make that happen for a friend! For yourself! Don't you feel good already?
3. Find healthy (not diet!) substitutions for treats you love. Whether you are sensitive to dairy, don't eat it for other reasons, or are open to seeing how good you can feel without it, I have a great substitute for you. The summer started and I could not get rid of a craving for for a creamsicle. Well, I have found a substitute!

Allow me to introduce you to this fabulous Ice Pop cookbook. "Cook" book? For ice pops? Yup! Cookie Dough, Creamsicle, Butter Pecan… Great ideas like using a touch of spinach for green color. No spinach taste and no food coloring. Genius! Why buy popsicles with corn syrup, guar gum, food coloring and preservatives? Instead, you could go through the entire summer making all of these ice pops with your kids. Guaranteed activity every day! Then when they ask for a popsicle for breakfast, you might even say yes without guilt!
So, where do you get this substitute? Right here, Right now. This is just one of the great offerings from Leanne Vogel, over at Healthy Pursuit.
If you're looking for a holistic approach to your love affair with summertime frozen treats, you need these 45 recipes (in the new, Purely Pops
Cookbook, created by Leanne from Healthful Pursuit).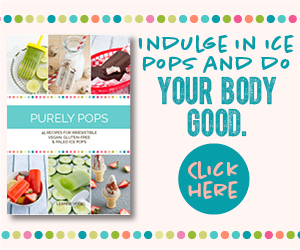 If you don't know Leanne, she is a holistic nutritionist with a solid track record of creating empowering recipes that show just how simple it is to fall in love with life, food allergies, weight loss goals and all.

Purely Pops Cookbook is a collection of 45 no-bake recipes for irresistible vegan and gluten-free & ice pops. It's your guide to making ice pops with natural sweeteners, real flavors and whole food goodness. No dairy, eggs, nuts, wheat, gluten, grains, bananas, sesame or soy.
Beat the heat with a freezer full of homemade frozen treats that will encourage you + yours to enjoy a happy, healthy summer.
(I know you're going to love it!)

p.s. I've made a lot of great friends and contacts in the food blogger world. Some of these bloggers are nutritionists and some are moms like me who have done their research. Instead of buying their products for myself and keeping it a secret from you, I'm going to start sharing some of them with you. When I give you a link to the product, it may be an affiliate link. That means that I make a little money if you purchase the product I've endorsed. I'm confident that we have established a relationship based on trust and that you would never doubt my intentions or think I'm saying or doing something to make money. I want you to know that your welfare is always what comes first. Your welfare is my motivation. If you ever have any questions about this new development, please talk to me any time. natasha@healthyfamilyhealthyyou.com.