Special Nine (9) Days Vegetarian, Vegan, Non-Dairy Dinner Menu and Recipes!
For my peeps who abstain from eating meat for the 9 days before Tisha B'Av (Jewish holiday commemorating the destruction of the ancient Temples), here's an easy menu! You may want to save this for this coming Sunday evening. This would also make a beautiful Friday night meal for year-round vegetarians or vegans.
9 Days Menu
Total cook time: 60 minutes
(make ice pops morning or day before)
Serves 6
Chicken Parmesan (no real chicken or parmesan, no fake processed "meat"!)

Cinnamon Sugar Sweet Potato Fries
Revolutionary Healthy Asian Slaw

Pear Crumble (Sneak peak recipe from new free, mini e-book gift for subscribers. Subscribe now if you haven't already!).

Healthy Ice Pops!
THE RECIPES
Chicken Parmesan (no real chicken or Parmesan, no fake processed "meat"!)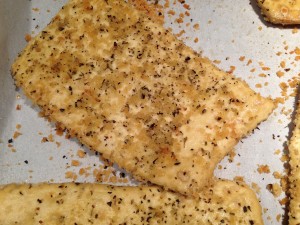 Ingredients
2 blocks extra firm organic sprouted tofu [This will be the firmest option. If you can't find sprouted, press the tofu for 30 minutes before cutting it.]
Olive oil spray
1/2 cup whole grain panko bread crumbs (gluten free if needed)
1 tsp dried Italian seasoning
1/2 tsp sea salt
2 Tb nutritional yeast
2 cups pasta sauce
Directions
Preheat oven to 400. Cut tofu into 1/4-1/2 inch thick "steaks" (see note above about pressing it). Place parchment paper on two cookie sheets (1 block of tofu per sheet) and spray with olive oil or other non-stick spray. Mix breadcrumbs, Italian seasoning, salt and nutritional yeast together in a small bowl. Place the tofu 1 inch apart on the cookie sheets. Spray top with olive oil. Sprinkle approximately 1/2 teaspoon of the breadcrumb mix on the top of each "steak". Place cookie sheets in oven until tops are browned, approximately 15-20 minutes.
[Prep sweet potatoes now].
After the tops are browned, take the trays out of the oven and flip the tofu steaks over. Sprinkle another 1/2 tsp of the breadcrumb mix on each piece of tofu. Place back in the oven another 15-20 minutes or until browned. You want the pieces to get a little hard. That's when they take on the chicken consistency.
Remove from oven and top each piece with 1 Tb (or more!) pasta sauce.
Cinnamon Sugar Sweet Potato Fries
Ingredients
2 large sweet potatoes (Increase # depending on the servings you need. Make up to 1/2-1 sweet potato per person.)
cinnamon sugar shaker
non-stick or olive oil spray
Directions
Preheat oven to 400. Place parchment paper on a cookie sheet and spray with olive oil or other non-stick spray. To cut the sweet potatoes into fries you can use a ridged knife or you can simply use a regular knife if you don't have any kind of a fry cutter. Peel the sweet potatoes. For each one, cut in half horizontally. Then, cut each half in half again and cut out four fries by cutting into the quarter vertically. You'll get 16 fries per sweet potato.
Place potatoes on the cookie sheet. Spray with olive oil or other non-stick spray and sprinkle with cinnamon sugar. That's it! Place in the oven for 30 minutes. You can turn them over half way through if you desire. If you have two ovens or can put in multiple racks, you can roast more than two at a time.
You can make the slaw now, or you can make it the morning before so that the flavors have time to meld together more.
Revolutionary Healthy Asian Slaw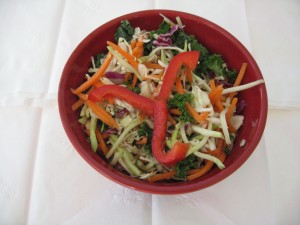 The most popular version of Asian slaw became a topic of conversation in a recent yoga class. Several people were raving about one specific recipe and handed me a copy. Some (not-Jewish) attendees served it at dinner parties and some (Jewish) attendees served it at Shabbat lunch. I admit that I love this dish when it is served to me at other people's homes. However, seeing the actual ingredients, such as 1 cup of sugar and 1 cup of oil, practically gave me a heart attack and diabetes on the spot! I promised to return with a healthier version. This is my creation.
Yields 8-10 servings
Ingredients
1 bag matchstick carrots (10 oz)
1 red pepper
1 bag Mann's Rainbow salad with broccoli florets (12 oz)
1 bag Dole Asian slaw with kale and snow peas* (12 oz)
*If your store isn't carrying this fancy thing that day, as mine wasn't the day I went to take a picture of the recipe, just buy the regular coleslaw mix and add 1 cup kale leaves, torn into tiny pieces.
For the dressing:
2 Tablespoons maple syrup (up to ¼ cup, depending on how sweet or acidic you like your slaw)
¼ cup rice vinegar
1/3 cup low fat Newman's Own Sesame Ginger dressing
2 handfuls each, slivered almonds and sunflower seeds (raw, unsalted)
Directions
Slice red pepper into matchsticks and mix with the rest of the salad ingredients.
In a separate bowl, mix the ingredients for the dressing. Pour over the salad and mix well. Add the slivered almonds and sunflower seeds and gently mix the salad again.
Pear Crumble (Sneak peak recipe from new free, mini e-book gift for subscribers. Subscribe now if you haven't already!).

[or sub 4 peaches and 2 cups blueberries]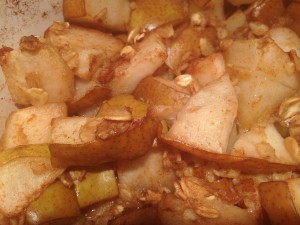 Ingredients
4 pears
½ cup cup old-fashioned oats
¼ cup light brown sugar
1 teaspoon vanilla
1/2 teaspoon cinnamon
Directions
Preheat oven to 350. Spray 8 x 8 ceramic baking dish with non-stick spray. Peel and dice pears, and place into baking dish. Add remaining ingredients and mix gently.
Bake uncovered at 350 for 40-60 minutes, stirring every 20 minutes.
Serves 4-6 [Great afternoon snack for kids the next day if you want to throw in a few more pears or you don't finish it all]
Popsicles!
Allow me to introduce you to this fabulous Ice Pop cookbook. "Cook" book? For ice pops? Yup! Cookie Dough, Creamsicle, Butter Pecan… Great ideas like using a touch of spinach for green color. No spinach taste and no food coloring. Genius! Why buy popsicles with corn syrup, guar gum, food coloring and preservatives? Instead, you could go through the entire summer making all of these ice pops with your kids. Guaranteed activity every day! Then when they ask for a popsicle for breakfast, you might even say yes without guilt!
So, where do you get this substitute? Right here, Right now. This is just one of the great offerings from Leanne Vogel, over at Healthy Pursuit.
If you're looking for a holistic approach to your love affair with summertime frozen treats, you need these 45 recipes (in the new, Purely Pops
Cookbook, created by Leanne from Healthful Pursuit).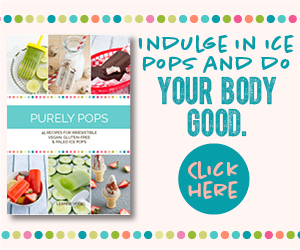 If you don't know Leanne, she is a holistic nutritionist with a solid track record of creating empowering recipes that show just how simple it is to fall in love with life, food allergies, weight loss goals and all.

Purely Pops Cookbook is a collection of 45 no-bake recipes for irresistible vegan and gluten-free & ice pops. It's your guide to making ice pops with natural sweeteners, real flavors and whole food goodness. No dairy, eggs, nuts, wheat, gluten, grains, bananas, sesame or soy.
Beat the heat with a freezer full of homemade frozen treats that will encourage you + yours to enjoy a happy, healthy summer.
(I know you're going to love it!)

p.s. I've made a lot of great friends and contacts in the food blogger world. Some of these bloggers are nutritionists and some are moms like me who have done their research. Instead of buying their products for myself and keeping it a secret from you, I'm going to start sharing some of them with you. When I give you a link to the product, it may be an affiliate link. That means that I make a little money if you purchase the product I've endorsed. I'm confident that we have established a relationship based on trust and that you would never doubt my intentions or think I'm saying or doing something to make money. I want you to know that your welfare is always what comes first. Your welfare is my motivation. If you ever have any questions about this new development, please talk to me any time. natasha@healthyfamilyhealthyyou.com.