This post contains affiliate links.
This is the second in a series of four related cleanse posts.
See the others here: Part 1, Part 3, Part 4
In addition, read this:
from www.positivehealthwellness.com
Day 1 Report!
Today was Day 1 of my 15 Day Reboot, 1 of several plans on www.rebootwithjoe.com. As I wrote in my Cleanse 101 post, I've decided to do the Reboot using my Vitamix and not a juicer. According to the Reboot FAQ's this is just fine. Read more of the Cleanse 101 post to see the difference between blending and juicing.
I spent about 2 hours last night preparing food for today. What I realized today though was that yesterday we went out for dinner. Today I made dinner for the kids and their friends, then had to clean up and put together my cleanse dinner. The cleanse dinner didn't take that much work, but I am not up to now cooking everything for tomorrow. So I will just have to get up early and do it then. Looking forward to the increased energy from the cleanse because I am exhausted! Not from the food (or lack thereof!), but because it is Mommy Camp: Week 1 of 2 (post-camp, pre-school).
Here is the menu for Day 1 (all of the recipes are available on the 15 Day Reboot plan pdf).
Breakfast: Berry-Apple-Cinnamon Bake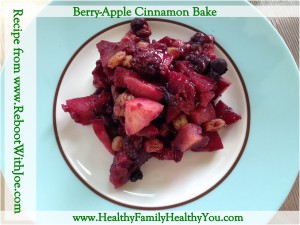 Morning and Afternoon Snacks: Carrot Apple Ginger Juice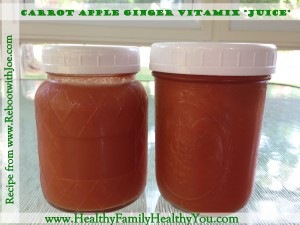 Lunch: Green Salad and Carrot and Sweet Potato Fries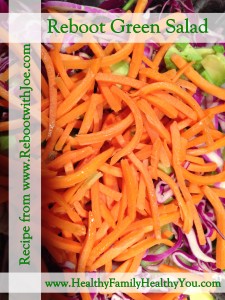 Dinner: Kale and Avocado Salad with Vinaigrette and Carrot and Sweet Potato Fries
You can see from the repeats that the plan doesn't expect you to make 15 different dishes every day, but it is a challenge to cook everything and also feed the kids. I know I saw a blog somewhere with pointers about this, but I didn't have a chance to read it. I also made my kids some of the carrots and sweet potatoes, but they didn't go for it. They do usually eat them, but you know how it is. Every day they like (and dislike) something different!
Bottom line: I don't think I was any hungrier than usual. However, as usual it was very hard for me to eat, period, running around with the kids. I had part 1 of my lunch at 1pm, part 2 at 3pm and my afternoon snack at 5pm! The big difference today was that I was completely prepared with what I was going to eat next and I stuck to that instead of grabbing what I could here and there. Most of what I eat intentionally is very healthy. It's the grazing that I know adds up to tons of unintentional calories that aren't adding many nutrients to my diet. Being on the cleanse is helping me be very intentional about NOT grazing. It's not always easy to remember though! I have to keep reminding myself.
Day 1 verdict: I can totally do this!