The last few days I've noticed that the wind is picking up and each time the wind blows, leaves are raining down on the street. It may be September 4, but it is still summer and we're enjoying the last days of its bounty.
With this bounty, my daughter invented an incredible dessert!
Frozen Watermelon Cupcakes!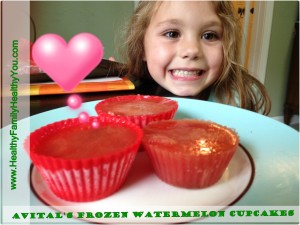 This works for a large crowd of kids begging for popsicles. Yes, you have to plan ahead to freeze them first, but making the "cupcakes" only takes a minute. You can feel good about doing this before the next playdate at your house. That way you can skip the corn syrup and food coloring!
Recipe
Watermelon Chunks from 1/2 a personal watermelon or 1/4 of a large watermelon [Make sure it is seedless!]
1/4 cup water
1 Tb agave nectar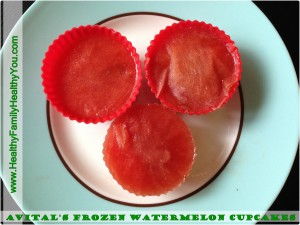 Directions
Use an immersion or regular blender to liquify the watermelon in the water. Strain the mixture.
Pour into silicone baking cups and freeze.
It will be easiest if you first place the cups on a cookie sheet.