Easiest, Healthiest Thanksgiving Menu Ever!
Hello, my Healthy Mamas!
First, I want to let you guys (and gals – I'm from Chicago – you guys is gender inclusive!) know that the Healthy Family Healthy You book is wrapping up at lightning speed right now! In the next week, my beta readers will have received all but one chapter. I'm so excited to share this information with you and look forward to connecting further over our shared goals!
Second, here are some tips to use this menu:
1. Use the recipes that speak to you and not the ones that don't.
2. Add in your own family favorites, healthy or not.
3. Have fun and don't make it too much work for yourself!
Make your grocery list, decide when you're going to go shopping and when you're going to cook which dishes so you aren't stressed out when your family shows up!
Let me know how it goes!
Entire menu serves 10-12, depending on how many of your guests are children.
1. Artichoke Tushies (aka bottoms)!
Ingredients
2 cans artichoke bottoms (5-7 each can), rinsed and drained
1/8 cup whole wheat panko bread crumbs
1 Tb nutritional yeast, ½ tsp Italian seasoning
Olive Oil Spray
Directions
Preheat oven to 400
Line baking pan with parchment paper and spray with olive oil. Place the artichoke bottoms in the pan. Spray the tops with the olive oil spray. In a small bowl, combine the bread crumbs, nutritional yeast and Italian seasoning. Sprinkle the mixture evenly over the artichoke bottoms. Give another quick olive oil spray on top of the whole dish.
Bake at 400 for 15-17 min or browned on top.
2. Multicolored Fun with Food!
Ingredients
1 bag, frozen multicolored cauliflower (found in the frozen section of most health food stores)
1 bag frozen multicolored carrots (found in the frozen section of most health food stores)
Directions
Boil each bag separately on stove top or steam in microwave until crisp tender. Find two pretty bowls and place each of the vegetables in its own bowl.  Pumpkin bowls? Make sure the bowls will reinforce how adorable and impressive your multicolored veggies are!  Even if you're serving buffet style, place these on the table.
3. Sweet Potatoes
Ingredients
10-12 sweet potatoes
1 bag, small vanilla vegan marshmallows
Directions
Bake sweet potatoes (can do in micro or oven) and split in half. Place marshmallows on top of each half and bake at 350 until browned (about 20 minutes).
4.  Brussels Sprouts with fresh cranberries and orange zest

Ingredients
2.5 lbs  Brussels sprouts (I used (3) 12 oz steam bags – so already pretty trimmed and clean)
4 tablespoons coconut oil. melted
1 cup fresh cranberries
¼ cup maple syrup
Sea salt and pepper to taste
Zest of 1 Orange
Optional: Vegan Parmesan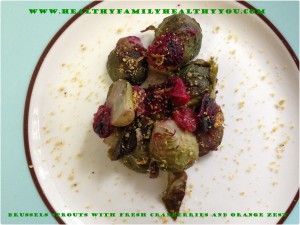 Directions
Preheat oven to 400 (for 20-25 minutes). Turn at 15 minutes.
Trim ends off (already washed) Brussels sprouts (or cut them from stalk) and remove any outer yellow leaves. Cut in half. Dry if still wet from washing. Toss Brussels sprouts with coconut oil and cranberries in a bowl and place in a baking pan with low sides. Roast for about 30 minutes, stirring halfway through, until Brussels sprouts are browning and crisping. Add orange zest and bake for 5 more minutes. Toss with maple syrup and add salt and pepper to taste. Serve warm. Optional: Sprinkle some vegan parmesan (from a shaker – it's not fake food I promise. Walnuts, hemp seeds and nutritional yeast. Available at health food stores) before serving.
5. Polenta with Mushrooms and Gravy
Ingredients
8 oz baby bella mushrooms, sliced
6 oz portabella mushrooms, sliced, then chopped
1 cup water
1/8 tsp salt
2 Tb organic cornstarch
1 roll Ancient Quinoa Polenta (preferably the one with red Quinoa mixed in, but plain is okay too), sliced.
Directions
Preheat oven to 350. (Or, see alternative stove top directions below).
Cook mushrooms in the 1 cup of water (use a small pot) about 10-15 minutes, on high heat, stirring occasionally until they are soft and much smaller,[See polenta directions below. You can take care of the polenta while you wait for the mushrooms to cook]. Take the mushrooms out of the pot with a slotted spoon and set aside in a bowl. Turn the heat off and whisk cornstarch in with the liquid until it has dissolved. Add salt and cook on low heat until the mixture thickens significantly. Whisk almost constantly to prevent burning and lumps. Add the mushrooms back into the pot and stir.
Polenta: Cut into half inch rounds. Cover a cookie sheet with parchment paper and then a cooling rack (if you don't have one, simply flip the polenta rounds half way through so both sides crisp).  Lay the rounds on the cookie sheet and spray one side with olive oil. Flip and spray the other side. Cook at 350 until crisp on both sides.
Alternatively, you may pan fry the polenta in a touch of olive oil until crisp on both sides.
6. Baby apple pies (serves 12)
Ingredients
6 diced apples (peeled if your kids refuse to eat the apple skin or are too young to properly chew it)
Sprinkle of cinnamon or apple pie spice
1 Tablespoon of water
Optional: 1 teaspoon brown sugar
Optional: Non-dairy whipped cream or the cream off the top of a can of full fat coconut milk, refrigerated ahead of time.
2 packs of mini graham cracker crusts (come in packs of 6)
Directions
Combine all ingredients in a glass bowl and microwave uncovered for 4-5 minutes. (Or bake at 375 for 45-60 minutes).
Place apples into mini graham cracker crusts and put non-dairy whip on top.