This post contains affiliate links.
The truth is, making a cake from scratch isn't a big deal and doesn't even take much longer than a cake mix. And brownies? Seriously exactly the same as a mix. The other advantage of making a cake or brownies from scratch, particularly brownies (because they're always chocolate!), is that you can use cacao powder. That's like cocoa powder before all the antioxidants are stripped from it. Cacao powder can actually have more antioxidants than blueberries! You know that whole, "But chocolate is good for you…" line we've been hearing for a few years. It actually can be true. But no, not a milk chocolate bar. Sorry!
This is what it looks like:
The Duncan Hines brownie mix I used in the following recipe isn't exactly healthy like cacao powder. However, with the secret healthy ingredient, the brownies are definitely in a different league than they would have been made with eggs and oil! And what is that? Black Beans! I know a lot of people have been trying this black bean trick lately. This particular mix (found on www.allrecipes.com) was a new one for me.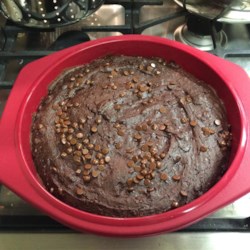 Brownie Mix Black Bean Brownies
1 can (15 oz) black beans
1 cup water
1 brownie mix (I used Duncan Hines 13 x 9 pan Chewy Fudge Brownie mix)
1 cup chocolate chips, divided (I used Enjoy Life Semi-Sweet mega chunks)
Directions
Heat oven to 350. Blend the black beans and water in a blender. Place the dry brownie mix into a large mixing bowl. Add the black bean puree and mix completely. Add half of the chocolate chips. Spray non-stick spray on a 13 x 9 pan and pour in the brownie batter. Spread the rest of the chocolate chips on top of the batter. Bake at 350 approximately 25-30 minutes until the edges have pulled away from the pan. Be careful not to overcook. The chocolate chips on top will not be melted.
Let cool for 15-30 minutes and dig in! The warm melted chocolate is insane! I read all of the positive comments online and still had my doubts. I'm telling you. Do not doubt the black bean! My peeps had no idea until I told them. They're BETTER than plain brownie mix brownies!
In the future, making black bean brownies from scratch with cacao powder is best. In the meantime, if you need the mental ease of a brownie mix or need to use up what you have in your house, MAKE THESE NOW!
If you are looking for a black bean brownie recipe to make from scratch, try these from Chocolate Covered Katie, with whom I am currently obsessed!
Finally, here's a picture of my results. Yum!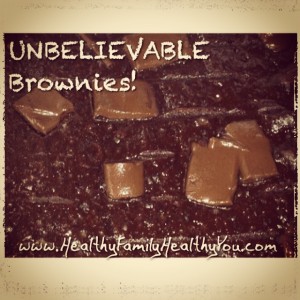 What are your healthy hacks?!