Looking for a new, healthy lunch option? What about a sophisticated appetizer? You can put this Tofu Egg Salad on whole grain bread, a grain-free wrap (like Blue Mountain basil coconut wraps) for lunch…or put it in a pepper bowl (ooh – what about stuffed into a baby pepper?!) for a sophisticated appetizer or first course. Let me know how you use it!
This is a preview recipe from the upcoming Healthy Family Healthy You book – in final process!
Tofu No-Egg Salad
Serves 4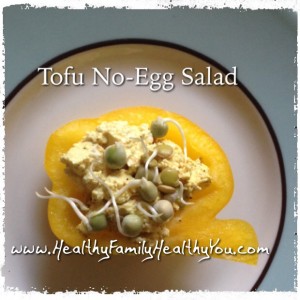 1 tub extra firm sprouted tofu, or extra firm tofu, drained and pressed (if desired)
1/3 cup grape seed Follow Your Heart vegan mayonnaise
1/8 tsp smoked paprika
¼ teaspoon paprika
¼ teaspoon turmeric
2 teaspoons yellow mustard
1/8 teaspoon salt
1/8 teaspoon pepper
¼ teaspoon garlic powder
¼ teaspoon dulse flakes (this is a type of seaweed that comes in a shaker like salt)
1 scallion, finely chopped, white and green parts
1 stalk celery, finely chopped
Drain tofu and press if desired.
Put vegan mayo and all spices into a medium sized mixing bowl. Mix well. Add scallion and celery and mix again. Add tofu. Break up with a fork and mix all ingredients gently. You want it to mix well but keep it the consistency of egg salad, rather than paste!