New 9 Days Vegetarian Menu with Exclusive Healthy Family Healthy You Cookbook recipes!
As you may have read a couple of weeks ago on my blog, my 1 book has now turned into two! There's the main Healthy Family Healthy You Healthy Mama's Guide and then a companion Healthy Family Healthy You Cookbook. Both should be in my hot little hands (and hopefully yours!) next month. Stay tuned for Girls Night Out book party details!
In honor of my excitement and because this is the time of year when many Jews abstain from eating meat for the 9 Days before Tisha B'Av (Sunday, July 26 ), I'm going to give you a suggested menu  using exclusive new recipes from the upcoming Healthy Family Healthy You Cookbook! Tisha B'Av (this means the 9th of the Hebrew month of Av) is a day of fasting and mourning to commemorate the destruction of both Holy Temples in Jerusalem.
See last year's 9 Days blog for additional ideas.
For this year, I've included a cold soup, a no-lettuce salad, a portabella mushroom burger, and a 2 ingredient dessert! This meal alone will give you all your fruits and veggies for the day (Not that you should only eat fruits and veggies at 1 meal! Just sayin').
Roasted Cherry Borscht
Serves 6-8
My tester, a professional vegan caterer, called this recipe "innovative" and told me her baby couldn't get enough of it!
4-5 beets, roasted and peeled
4 pitted medjool dates
½ – 1 cup fresh or frozen pitted cherries
Juice of 1 lemon
Dash of salt and pepper
1 Tablespoon agave nectar
1 can small new potatoes, drained and rinsed.
Garnish options: 1 dollop vegan sour cream. Over dollop, place shredded or matchstick carrots, beets and/or cucumber.
Heat oven to 425. Remove beet greens if still attached. Wash the beets but don't peel them. Wrap them in foil and roast for 1 hour. At the same time, roast the potatoes uncovered in the 425 oven until firm and brown. Set aside. Let the beets cool. Put on disposable kitchen gloves and rub the skin off. Cut off any remaining root. Cut in ½ inch cubes for easier blending. Blend with dates, cherries, lemon juice, agave nectar, salt and pepper.  Pour into bowls and add potatoes and optional garnishes.
Colorful Company Salad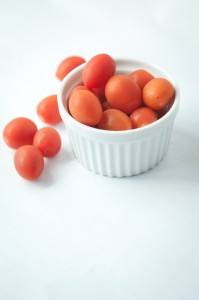 Serves 6-8
It doesn't get any easier than this! I'm always looking out for you – easy, healthy and fast! I love this salad and don't think it even needs dressing. However, feel free to add some if you like. You can also feel free to play around with the proportions of ingredients.
2 cups corn canned, frozen, or fresh cooked corn (cut off the cob)
1 can black beans, drained and rinsed
1-2 Tablespoons chopped fresh cilantro, to taste
1 red pepper, diced
1 mango, diced
1 pint grape tomatoes, sliced in half
Combine all ingredients, except for the tomatoes, and stir. Cover the top of the salad with the sliced tomatoes. If you really want to impress your guests, use a mixture of yellow and red grape tomatoes.
Portabella Mushroom "Bacon Burgers"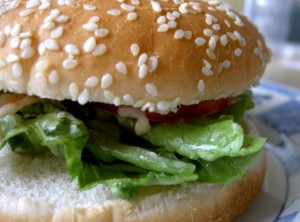 Serves 4
4 portabella mushroom caps
4 whole grain hamburger buns (try Ezekiel or other sprouted buns for a new healthy option), toasted
1 tomato, sliced
4 Romaine lettuce leaves
1 package bacon tempeh
1 avocado
Sauce options:
Vegan Mayo
Mustard
Hummus
Avocado slices
Heat oven to 425. Cover cookie sheet with parchment paper and spray with non-stick spray.
To prepare mushrooms: Turn the mushrooms over so you are looking at the bottoms. Pull out the stem. Then pull pack the skin so that you are peeling it off of the mushroom cap. That way your mushrooms are clean and ready to go (Thank you for this tip, Shifra Klein, Joy of Kosher Magazine's  editor-in-chief!) Place mushrooms on the cookie sheet and spray the top of them with non-stick spray (or, preferably, use an olive oil spray bottle).
Roast for approximately 20 minutes, until the mushrooms start to release their juices and soften.
Warm tempeh bacon according to directions on package.
Place each mushroom on a bun with bacon, lettuce, tomato, and sauce of your choice: vegan mayo, mustard, avocado slices or hummus, if desired.
Chocolate Banana Bites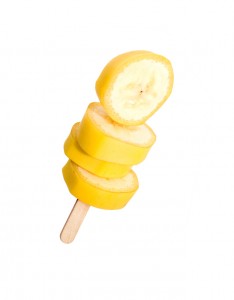 Serves 4-6
2 bananas
½ cup chocolate chips (mini chips melt most easily)
Optional: non-dairy whip from an aerosol can
Cover a cookie sheet with wax paper. Peel bananas and slice into 2 to 3 inch chunks, depending on the size of the people eating the dessert (little mouths, little bites!). You want the pieces of banana big enough that you can put your fingers around them to dip into the chocolate, without covering your fingers in chocolate too. Space them out about 1 to 2 inches apart on the wax paper.
Melt the chocolate chips. You can use the microwave and cook, then stir, in 30 second increments. Be careful not to burn them! (Alternatively, you can melt them using a double boiler on the stove top).
Dip each piece of banana in the chocolate, so that the bottom half inch is covered. Place back onto the wax paper (chocolate side down).
If you still have bananas and run out of chocolate, melt more. If you still have chocolate and run out of bananas, cut more and make more!
Place the tray into the freezer and freeze until the chocolate sets, about 30 minutes. Don't leave them in there for more than a day uncovered. You can then place them in a freezer bag or container so the   y don't get freezer burn.
Take out of the freezer just before serving.
Optional: After placing the bananas on your serving tray, spray one shpritz of whipped cream on top of each banana.