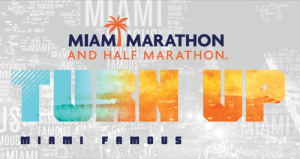 Have you seen those bumper stickers that say, "I'm only half crazy?" That means that person completed a half marathon (13.1 miles vs. a whole marathon of 26.2 miles). The Miami Marathon and Half Marathon is over; I walked the entire 13.1 miles; so now I'm officially half crazy! Yay!
As many of you know, I have been raising money and training for many months for the Miami Marathon, on behalf of Friendship Circle of Maryland. We were the third largest team, only behind Brooklyn and Miami. As promised by Friendship Circle, the weekend was elegant and inspiring.
So, first, let me thank all of the donors who helped get me there. Without you, I would not have had such a beautiful weekend while supporting children of all abilities. (And in case you're wondering what took me so long to write to you and get this blog post up…I was so full of awe at the weekend, I was a little "speechless" for a while!)
I met inspirational people, and learned so much more about the challenges and joys that Friendship Circle families face every day.
The Friendship Circle Mission
The Friendship Circle is based on the Biblical commandment of V'Ahavta L'Reacha Kamocha, "to love your fellow as yourself.",
The Friendship Circle carries out that concept in life-changing ways by:
Engaging children and teens with special needs through a full range of experiences.
Supporting parents and members with much needed respite and support.
Enriching, inspiring and motivating teens to share their time and talents with others.
And connecting teen volunteers, children with special needs, and their families to the
Jewish community through educational and social opportunities.
By fulfilling its mission, the Friendship Circle is helping to build a better world for children with special needs, one good deed at a time.
We stayed at the beautiful Thompson Miami Beach Hotel. I had actually planned to find a store when I got in to pick up some fresh apples for snacks over the weekend. I didn't have time but it didn't matter. The Friendship Circle hospitality room had coffee, tea, almond milk (!), kind bars, apples and oranges. These weren't just any apples. They were un-waxed crisp Fuji apples. Just what I had planned to buy for myself! Wow. Hotels often have whole fruit available. However, it's either completely unripe and hard as a rock, or in the case of apples, they're Red Delicious (a particularly mealy-tasting apple created to travel long distances and stay "fresh" for long periods) or Granny Smith apples with one inch of wax around them. Who wants to eat that?
Walking into the hospitality room I first saw an entire Nut Bar laid out in mason jars (sponsored by Setton Farms). Silk bags for making your own little trail mix of nuts, wasabi peas and dried fruit lay next to the jars, marked with chalkboard labels and a little burlap string tied around the top of the jar. Whoever comes to my house next for a party – just know now – this is what I'm doing. It was brilliant, healthy and adorable!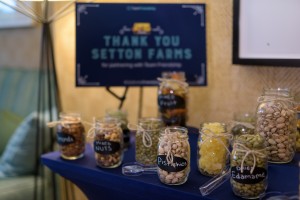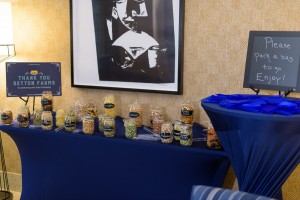 I stepped out of that room onto a long, rectangular terrace full of comfy couches, chairs and tables for lounging with our snacks. Just when I thought it couldn't get better, I found the tea room with the fresh apples. It takes a lot to impress me when it comes to these type of hospitality room/snack food situations, and I was certainly impressed at the thought and effort that went into creating a healthy, delicious and fun space for the teams. Especially as someone who wants to create a sea change within my community, I was appreciative of their creating and committing to a healthy environment.
JB Bensmihen (actually a candidate for Congress!) told us his story. As a child in the 1970's, he asked his father why he couldn't go to the same school as his sister. His father explained that there was a law in Canada that children with disabilities could not go to the same school as typically-abled children. He essentially told his father that was stupid and he wanted to go tell the Prime Minister to change the law. So his dad drove him an hour or two away and they got into the Prime Minister's office. His office personnel were stone-walling him. The Prime Minister came out to see what the ruckus was and invited the young man to come in and meet with him. They met for over two hours and a 5 year plan was hatched to change the law. You can watch his talk here.
We can all learn so much from that story. May we all have that much courage to change injustices around us for ourselves and others!
The walk itself was much harder than I thought it would be. Probably because it was 45 degrees! We stood in the cold for an hour before it started. Maybe because I'd been up since 3:30am and it was only 6am at the time, somehow I didn't really think of trying to keep moving in place to keep my body warm. The 1st mile of the race was actually the hardest mile of the race. My shins were burning from being so cold and tight. Half of the race was on a bridge with the wind just whipping through us. We all traded information about what clothing and other gear that we had at the hotel or at home that would have been quite handy. Well, live and learn! There is always a learning curve. Although, I was ready to kill all the people who had raced before who told me to leave my hand sanitizer at home. Really, don't even get me started! I was so surprised that I needed many more gels and bars and so forth to get me through the race of 13.1 miles than I had when I'd gotten up to almost 11 at home. I assume that was because my body was working so hard to warm me up! I was happy I'd over packed on that end. Although I would have done fine with one less gel and a little hand sanitizer instead! lol…
I'm already planning my revised packing list for next year. Can't think of much that would keep me away! A great cause, great friends, an inspirational weekend and meaningful physical challenge… who wants to join me next year? It doesn't matter where you live or whether you have any connection to the organization. Just bring your heart! January 22, 2017. Go to https://www.teamfriendship.org/!
And if you come, you'll even get one of these cute kepahs!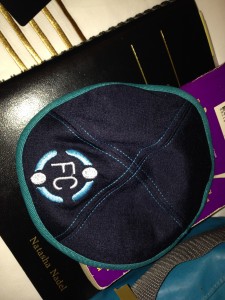 And yes, poor me, I was stuck in Miami for a few extra days. In my defense I actually did miss my family terribly and was becoming a little unhinged at the end over it! I'd never been away for 5 entire days. In addition, the first few days I was there the weather was terrible. On Friday before Shabbat I called my husband and told him I was freezing and wet and he said, "Funny thing, so am I." So my bonus days gave me time to spend quality time with family (and some shopping on Collins Avenue with my teammates!) during some decent weather. That part of the trip was worth getting stuck. Also, after the race, I don't know if I could walk well enough to get through the airport. I was in pain!
Here are some cool pictures of coming into the Northeast, on the plane in from Miami. It looks black and white, but it isn't! That's just what the snow-covered world looked like from up there.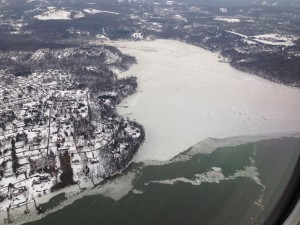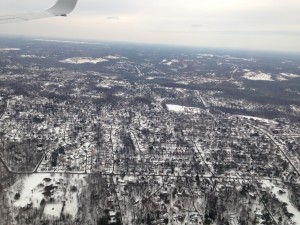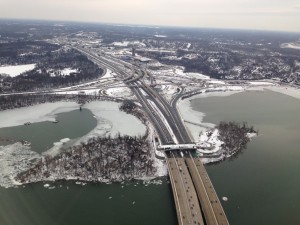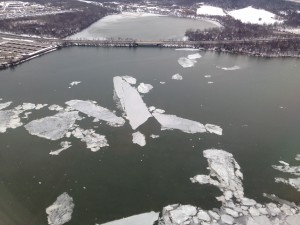 Here is a picture of our SUV buried in the storm, also looking pretty black and white.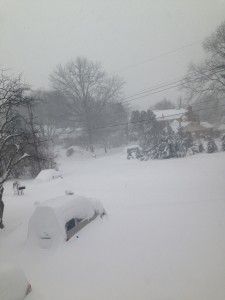 And here, as color returned to our corner of the world, is my son doing his best solo on top of one of the boxwoods outside our front door. There was still so much frozen-over snow on top that he was able to stand, sing and dance without falling a few days after the storm(Not that I encouraged or condoned this, but why should he start listening to me now Oh boy, I think I sound like Jerry Seinfeld's mom!).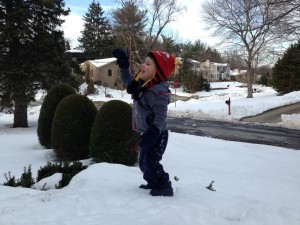 Thank you again to my donors – and my family who stayed with the kids for days and days! Maybe I'll just take them with me next year?! You know, just in case we have another blizzard…