February 28 Cooking Demo and Tasting!
with Natasha Nadel, author of The HFHY Healthy Mama's Guide and Cookbook
(Registration at bottom of page)
(Note: This one is in Potomac, MD but you can schedule your own Healthy Mama workshops in your area. Email me at natasha@healthyfamilyhealthyyou.com and go to my workshop page.)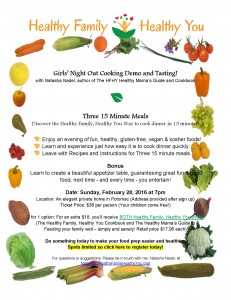 Three 15 Minute Meals
Discover the Healthy Family, Healthy You Way to cook dinner in 15 minutes!

 Enjoy fun, healthy, gluten-free, vegan, kosher food!
   Learn and experience just how easy it is to cook dinner quickly.
   Leave with Recipes and Instructions for Three 15 minute meals.
Bonus
Learn to create a beautiful appetizer table, guaranteeing great fun & good food, next time – and every time – you entertain!
Date: Sunday, February 28, 2016 at 7:30pm [NOTE TIME CHANGE]

Location: An elegant private home in Potomac, MD (Address provided after sign up)
Ticket Price: $36 per person Feb 28 Flyer
2 for 1 option: For an extra $18, you'll receive BOTH Healthy Family, Healthy You books
(The Healthy Family, Healthy You Cookbook and The Healthy Mama's Guide to Feeding your family well – simply and sanely! Retail price $17.95 each)
Do something today to make your food prep easier and healthier.
Spots limited so purchase your tickets below to register today!
For questions or suggestions: Please be in touch with me, Natasha Nadel, at Natasha@HealthyFamilyHealthyYou.com