I'm not one to tell my kids to go outside and play. Why? I don't like to play outside! If they're out there, I have to be too (Call me crazy but I don't enjoy Maryland gnats buzzing about my head). However, I recently realized that I had to do something to combat the slow screen-addicted zombie-ification of myself and my family. Discovering a sense of wonder (missing in the Google age) for something other than new toy videos on YouTube is definitely a healthy habit for children AND adults. I decided to force that discovery and took advantage of a once a year phenomena to get us out there. (You can see the results above. A lot better than fighting over the remote!)
Washingtonians are often aware of seasonal use it or lose it events because D.C.  is home to the famous cherry blossoms. They bloom once per year (we never know for sure when) and are only at their peak for a short time. Some years I make it. Some years I don't.
This year I found a pocket of unscheduled time on a Sunday afternoon and took my kids on a drive to see the cherry blossoms. I was so eager not to miss them that I went even though I had heard news reports that it was still early in their blooming process. Alas, the trees were still in bud stage. It was quite the tease. I could clearly imagine the billowy pink canopy coming soon, but couldn't quite feel or experience it.
Once they were in bloom, I simply couldn't find an unscheduled hour (during daylight) to get back there. Their peak happened to fall during Purim, one of the busiest times of the year for us; filled with making and delivering mishloach manot, dressing up in costumes, attending the requisite parties (I know, it's a hard life!) and Megillah (Book of Esther) readings, there just wasn't time for much else.
When I saw tulips sprouting on neighborhood lawns, I started stalking the website and hotline of a local garden (Brookside). After receiving confirmation that the tulips were out, the only time I had to take my family was on an already packed Sunday.  I planned for us to enjoy a picnic lunch. Our other obligations quickly overtook the day and any window of time to go kept getting smaller. My husband, kids and mom were asking if it had to be that day, what's the big deal and weren't we simply too busy and tired that day? I dug in my heels. I missed the cherry blossoms this year. Last year, worse than missing the tulips at the gardens, I got there late – when they were all in various stages of decay. That was so much more disappointing than finding the cherry blossoms as buds.
After all the various, "I have to go to the bathroom" (that was me – and we were there so late the restrooms were closed) and "I need a drink of water," and "I'm hungry" delays…I told everyone to put one foot in front of the other. We were going to walk until we saw those damn tulips. And we did. The kids, my husband and mom, were equally excited to spot and compare the different colors and varieties.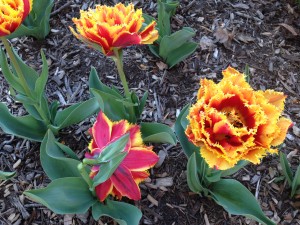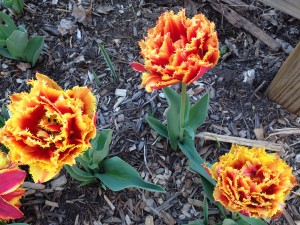 My children played with other kids around the pools and fountains. They clearly understood why I had pushed them to get out of the house, make the long drive and walk through the gardens. Everyone left a bit more relaxed and contented than when we arrived. They both played butterfly on the metal butterfly bench.
Now, if only I could end the (so far) 7 year streak I've missed ordering and planting tulips in time to have them in my own yard for spring.
I have the (bad?) luck that my two favorite flowers, the aforementioned tulips, and Lily of the Valley, come and go in rapid succession and aren't easily available other times of the year.
In fact, because Passover was a month later than usual this year, I was worried I would miss the Lily of the Valley due to bloom in my back yard. (No, I didn't get it together to buy seeds and plant them. I had the good fortune to move into a house where it already grew.) I found them in full bloom the day I returned and quickly filled my kitchen with their sweet scent.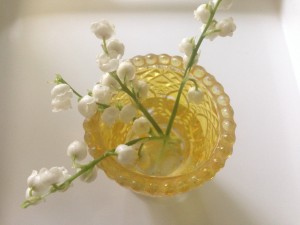 There is some good in being able to find almost anything on YouTube or Google. I can show my children a rare animal or a plant that doesn't grow here or grow now. However, there is something unique and valuable about savoring a tactile nature-related experience available only once per year. You can't smell or touch flowers online – at least not yet.
We can teach our children to savor the season on a regular basis by paying attention to the seasons and their associated physical changes and rich bounties.
Now, excuse me while I go pull out my seed catalogues…