Hey, Healthy Mama! Whether you are hosting your own shindig or contributing to another one, the Healthy Family, Healthy You blog has all the healthy Memorial Day ideas you need.
Many of these can be used in a couple of different categories, so see where I've noted this. Also, many of these recipes are from The Healthy Family, Healthy You Cookbook. What? You don't have the cookbook? Or The Healthy Mama's Guide to feeding your family well – simply and sanely? Well, let's just fix that right quick! Click on the titles to purchase. :)-
Appetizers
Rainbow fruit skewers. I have this listed as a dessert option below, but it is actually better for your digestion to eat fruit BEFORE anything else. Fruit is metabolized much faster than protein and grains (and even vegetables). Therefore, if you eat fruit AFTER your veggie or meat burgers, the fruit will not be able to get through your system as fast as it needs to, causing gas and bloating. Experiment with this and see how you feel. If you let the kids put these together when the party starts, they can busy themselves eating the fruit, instead of potato chips. The key is to keep the chips away until they've eaten their fruit so they don't keep taking handful after handful of chips. This is a good idea for grown-ups too!
Rainbow fruit and veggie platters
My Healthy Mamas know all about my veggie platters! See below for the ones I made for Purim.
See below for the platter I made for a recent Fruit Funshop at a local preschool. (Do your kids need to have fun with food at camp or preschool? See my workshop page and email me at natasha@healthyfamilyhealthyyou.com for more info!). We also made "lollipops."
There are so many ways to display fruits and veggies and provide fun food for your guests (or your host) with very little work. The best way is to let the colorful veggies make the fun for you! See below for a few ideas, including my famous baby cucumber pops. And yes, I know I'm obsessed with rainbows and rainbow food (all naturally colored of course!).
MAIN DISHES
Collard Veggie Wraps
TASHA'S TIPS: Have large collard leaves available for your Paleo guests who might be eating hamburgers or grilled chicken breast (you know, if you're into that kind of thing… :)- ) but don't eat buns… or use them as a healthy (and gluten-free) alternative to a wheat flour based wrap for your veggie option. You can also make smaller wraps as finger food appetizers – or a side veggie.
Stuff your collard leaves with veggies, such as roasted red peppers, sauteed mushrooms, sliced cucumber, sliced tomato, shredded carrots. Top veggies with vegan mayo, mashed avocado or hummus.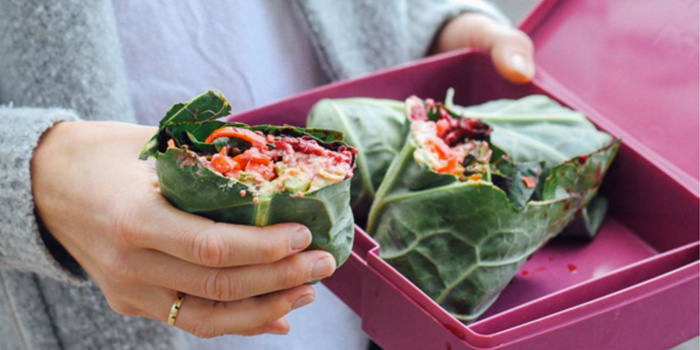 TASHA'S TIPS: You have a few healthy options to go along with my recipe for Portabella burgers. You can provide collard leaves (as above) for those who don't want a bun around their mushroom "burgers." OR….. (I'm about to blow your mind….) The Portabellas can be used as the "burger" or the bun! Here's how all of this might look:
A hamburger or veggie burger with all the fixins' inside a collard green wrap.

A hamburger or veggie burger where a large mushroom cap acts as the bun – just a bottom bun for an open-faced option, or both top and bottom.

Mushroom caps as top and bottom bun with all the fixins', such as sliced tomato, cucumber, sprouts, spinach, avocado and hummus as the "meat" of the sandwich.


The mushroom can be your "burger." See recipe below.
Portabella Mushroom "Bacon Burgers"
Serves 4
4 Portabella mushroom caps, cooked
4 whole grain hamburger buns (try Ezekiel or other sprouted buns for a new healthy option), toasted
1 tomato, sliced
4 Romaine lettuce leaves
1 package bacon tempeh
1 avocado, sliced
Sauce options: Vegan Mayo, Mustard, Hummus
Heat oven to 425 degrees. Cover cookie sheet with parchment paper and spray with non-stick spray. Cook mushrooms according to directions on previous page. Warm tempeh bacon according to directions on package.
Place each mushroom on a bun with tempeh bacon, lettuce, tomato, avocado slice and sauce of your choice: vegan mayo, mustard, or hummus, if desired.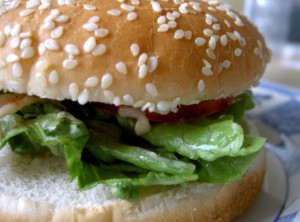 SIDE DISHES
The veggie wraps above, and/or:
Let the kids put these together. They'll be very proud of their accomplishment and contribution to the meal/party. It will also keep them busy!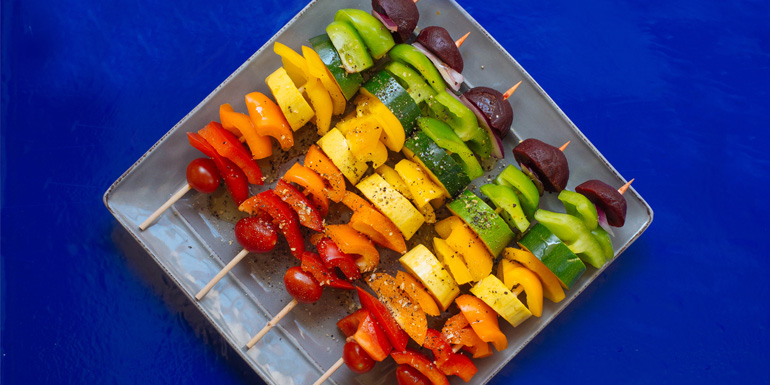 Mom's Tuna Pasta Salad – Veganized
Serves 6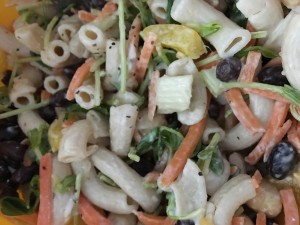 Nothing reminds my sister and me of summer like our mom's tuna pasta salad. And then I remember the guilt. The pasta. The mayo. My mom always puts twice as much mayo as I would into anything and everything that mayo could go into. However, most of the time, I have to admit that it does taste better that way!
Nevertheless, we have our health to think of, so I came up with this alternative. The good news is that since I've started to eat a plant-based diet I'm not so afraid of pasta. The same can happen for you!
1 16-ounce box medium sized whole grain shell or elbow shaped pasta (Brown rice pasta works very well)
1 cup chopped carrots
1 cup chopped celery
1 cup chopped yellow pepper
2 Tablespoons chopped shallot (leave out if your kids don't like onions)
⅔ cup Nayonaise light vegan mayo (or any low fat vegan mayo)
1 29-ounce can chickpeas, rinsed and drained, then mashed lightly with a fork
Salt and pepper
Cook pasta as directed. Rinse it with cold water and let it cool to room temp in a large bowl. Combine all vegetables, Nayonaise, salt and pepper in a small bowl. Add the mix to the larger bowl with the pasta and stir well. Cover and place in the fridge to allow the flavors to meld together for at least an hour.
SALADS
Ginger Corn Salad
Serves 6-8
This simple salad is a no-brainer when you are having company or want to bring a vegetarian dish to a potluck dinner.
3 cups canned, frozen, or fresh cooked corn (off the cob)
1 to 2 Tablespoons (to taste) dehydrated or fresh red onion
1 can pinto beans, rinsed and drained
1 red pepper, chopped
1 cup shelled edamame (fresh, steamed or microwaved from frozen)
Approximately ½ cup "Newman's Own" bottled sesame ginger salad dressing (or similar)
Mix all ingredients and serve.
OR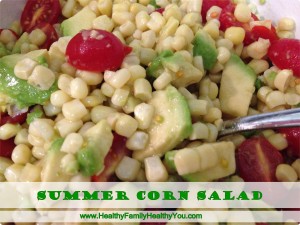 Summer Corn and Tomato Salad
Serves 4-6
A great way to use up summer bounty or inject summer into your winter!
3 cups corn (defrosted frozen, cooked and cut off the stalk; or raw if that's  what you like!)
1 pint cherry tomatoes, halved
Half a large or 1 small avocado, diced
Juice of half to 1 lemon, to taste
Himalayan pink salt
Mix corn, tomatoes and avocado in a mixing bowl. Add lemon juice and season with salt to taste. Mix gently. Transfer to serving dish if you like.
Refreshing fruit ideas for DESSERT
My Mother's Day blog idea for using melons, pineapple or watermelon as your fruit salad vessels.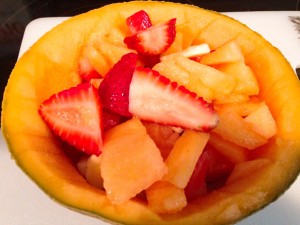 and/or
Rainbow fruit skewers. Let the kids make their own. Keep them busy with healthy activities when they're on shpilkes and don't want to sit at the table any longer, but you don't want to get up to watch them outside of your eating area.
Have a great Memorial Day weekend – and don't forgot that it is about those who serve our country, not just BBQ.