The way Shavuot falls this year (10 days from now) we are looking at a three day yuntov. Because of the length and because it starts with Shabbat, I really have to keep my menus simple to maintain my sanity. I encourage you to do the same! You'll also want to do as much prep ahead of time as possible.
I have two suggestions to simplify your menu.
Make one big dish and supplement it with a side salad and rainbow vegetable platter. For your big main dish, consider my vegan enchilada casserole or vegan gluten-free lasagna. I promise you won't be able to tell that either dish is gluten-free or sans cheese. In addition, both of these dishes can be put together before Shabbat and yuntov and then baked fresh for lunch. You can also bake them ahead of time and reheat for your meal.
Another simple strategy is to let your guests customize their own meal. For example, see a previous year's Shavuot blog with a "make your own" Taco Bar and Jicama Mango Salad. Two other Mexican options include a "make your own" nachos (which you can then bake fresh if you want to melt real or vegan cheese on top) or fajitas.
Two Italian "make your own" options include pizza and a pasta (try whole grain or bean options) bar. Kids are often a focus on Shavuot. Let them enjoy their lunch and feel like they made their own meal, instead of being told what to eat. You'll give them a number of healthy choices for toppings, such as baby spinach, sautéed mushrooms, black olives, fresh and roasted peppers, etc…
Here is an easy side salad suggestion from The Healthy Family, Healthy You Cookbook:
Colorful Company Salad
Serves 6-8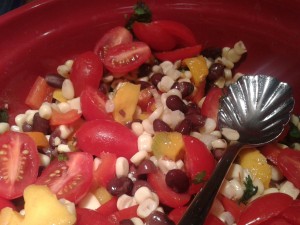 It doesn't get any easier than this! I'm always looking out for you – easy, healthy and fast! I love this salad and don't think it even needs dressing. However, feel free to add some if you like. You can also feel free to play around with the proportions of ingredients.
2 cups corn canned, frozen, or fresh cooked corn (cut off the cob)
1 can black beans, drained and rinsed
1-2 Tablespoons chopped fresh cilantro, to taste
1 red pepper, diced
1 mango, diced
1 pint grape tomatoes, sliced in half
Combine all ingredients, except for the tomatoes, and stir. Cover the top of the salad with the sliced tomatoes. If you really want to impress your guests, use a mixture of yellow and red grape tomatoes.
Dessert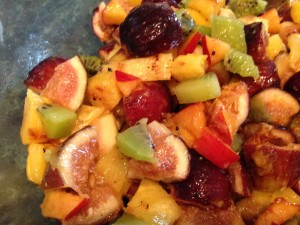 For dessert, let the kids make their own chocolate covered strawberries or banana bites. My sis Lani's fig salad is also always a hit and particularly refreshing after days of heavy dairy foods.
Good yuntov!