No need to make both breakfast and dessert for your Mother's Day Brunch (Wait, is this like when moms make their own birthday cake???). I've got a two in one solution for you! Or should I say, a perfect solution for your kids to make you breakfast in bed!
These Strawberry Shortcake Pancakes are such a perfect replacement for me for my favorite dessert. I even made them with Bob's all-purpose gluten-free flour and you couldn't even tell. I like that this flour is not like a lot of gluten-free flours and baked goods – pure empty calories of white rice and corn flours, sugar, etc… It actually has various bean flours in it. And you can't tell. Seriously.
It's not my recipe so you'll have to click on the picture below to get it from the original source: Chocolate Covered Katie.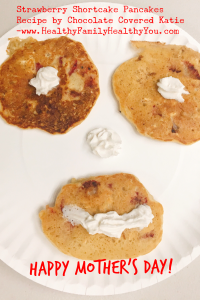 These are perfect for a healthy, vegan (or not) Mother's Day Brunch. The only thing that tampered my excitement about these pancakes was finding out that Trader Joe's has discontinued its healthier parve (non-dairy) whipped cream in a canister. It was made from coconut cream and much better for you than the typical non-dairy whipped creams that have kosher certification. I'm thinking of breaking out my whipped cream canister with the cartridges, putting in coconut milk, and seeing what happens. I'm sure that's online somewhere… Let me know if you find it!
In the meantime,
HAPPY MOTHER'S DAY!
See previous posts:
Your Healthier Mother's Day Menu (2017 post)
5 ideas for Mother's Day Brunch (2016 post)
7 ideas/recipes for Mother's Day (2015 post)