Ready to totally skip meal planning? Ready for your kids to make YOU dinner all week?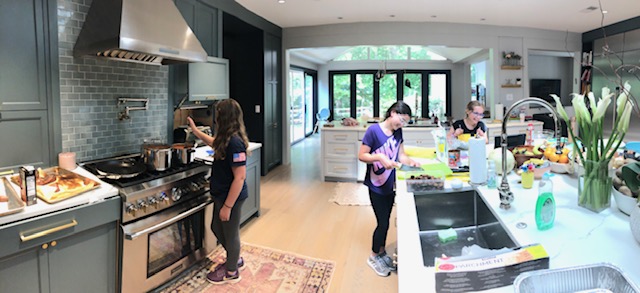 MAKE YOUR FAMILY DINNER CAMP!
Last Chance for Summer 2020!
Kosher Cooking Camp – Live on Zoom
Aug 10-14, 2020
Flexible Age Range: Rising 2nd – 8th Graders
Monday – Friday, 3pm-5pm
$195 per camper/$75 Sibling rate
Your dinner planning and prep is done for the week! Campers will cook both a dinner and dessert every day and create fun fruit and veggie art.
Register now to receive the grocery list, full menu, and fruit and veggie art tools before camp begins.
NEWSFLASH: Now peanut and nut-free! All food is plant-based and dairy-free.
See what parents have to say:
"OMG, my son is eating spinach. He can't get enough of the strawberry dressing!"
"Thank you for an amazing week of cooking (and yummy food!). The girls had a great time! My youngest got her confidence up and my oldest loved being in the kitchen and trying new things. As the week went on, she was making things for lunch, inspired by your dinner menu. It was great!"
"My kids started this camp as beginners with not much cooking experience. Both have become much more confident using knives and measuring tools and cooking on the stove top during this camp. They are excited and proud to taste their creations."
"This camp was loads of fun. Spending time with my son, cooking delicious healthy food for our family was a true joy. We learned a lot about cooking technique and healthy eating to boot!"
Campers at work, ready to eat, and enjoying their food! All from home.
Camp is for a very flexible range of ages. Children will have an opportunity to interact with their peers and others in a fun way.
Even though everyone is at home, we really feel like a group. Throughout the week we share our reviews and photos of what we've made together.
Go directly to the Registration form.
I look forward to cooking with you and your family!