Many of us have smaller than usual holiday tables this Rosh Hashanah.
On one hand, you can use the opportunity to keep things simple. On the other hand, you can try out new recipes or deepen the holiday experience by trying a Sephardic Rosh Hashanah Seder.
I had a sudden inspiration for my Rosh Hashanah menu a few weeks ago. I jotted it down on a post-it and have been keeping track of it ever since. Considering my poor handwriting and the now shmeared pencil marks, I thought I'd give you an illustration instead of a picture of the real thing!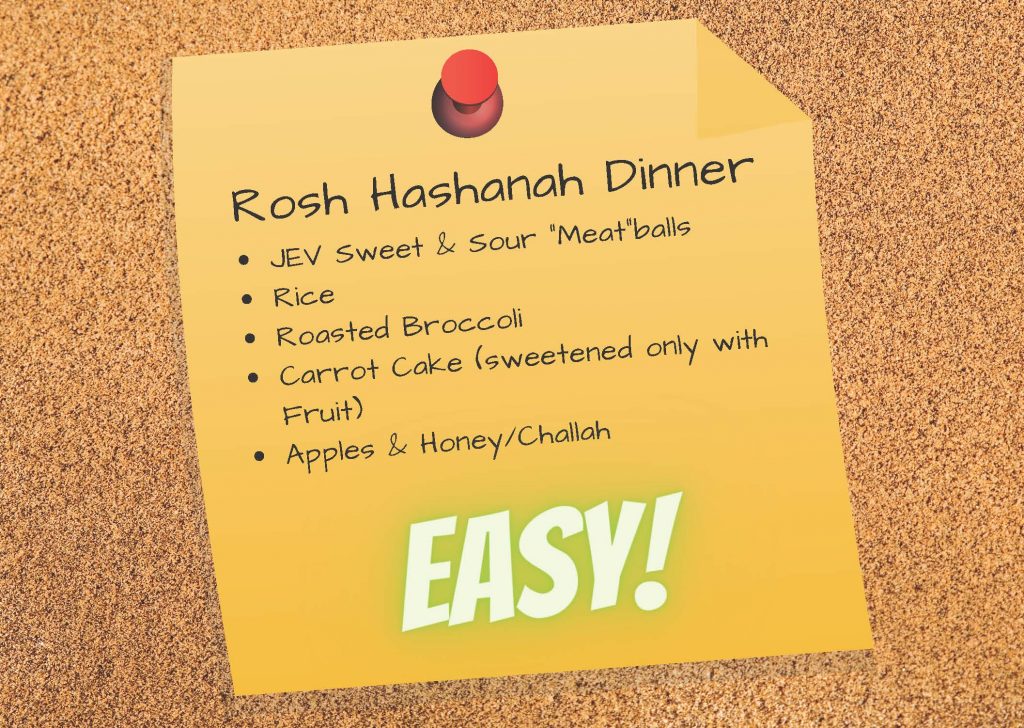 And then, because I couldn't help myself, I made a more complicated version of the menu.
I haven't yet decided which menu I will make, the more simple or more exciting.
I'll tell you what I do know.
You need to keep reading this blog post to get the JEV Sweet and Sour "Meat"ball recipe. Trying to make my grandmother's sweet and sour meatballs (back when I ate meat) was such a FAIL. This recipe WORKS, is healthier, and takes me back in time.

If you haven't had Persian Tahdig before, now is a great time to try. Tahdig refers to the bottom of the pot. You want a nice golden crunchy bottom to your rice, usually with some help from oil, saffron and turmeric. Before serving, you can add pistachios, sliced almonds, pomegranate seeds and even orange zest. Gussied up tahdig is often called jeweled rice. I found an example that I'm going to steal from. However, I don't put an entire stick of butter (or margarine) in anything… so this is for inspirational purposes only.

You'll have to wait for an upcoming workshop to learn more about the magic carrot cake that is sweetened only with fruit. (I won't make any promises about the frosting!).

You don't have to miss sweet lukshen (noodle) kugel, even if you're dairy or gluten-free. I have made this delicious recipe using tofu shirataki noodles. You can find those in the produce section with the tofu. Get the fettucine type. Be sure to rinse well, drain, and dry out a little in the microwave before using them.
Print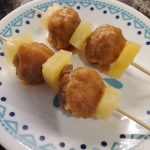 Sweet and Sour Vegan Meatballs with Pineapple and Rice
---
Author:

Natasha Nadel

Total Time:

40 minutes

Yield:

20 meatballs

Diet:

Kosher
Description
If you want to feel the feels like you're eating at your Bubbe's house, this is the recipe for you. Heimisch, satisfying, and cruelty-free. Whether you are vegan or not, there is no reason NOT to make this recipe for vegan sweet and sour meatballs.
---
1 package Beyond Meat Ground
Healthy Sweet and Sour Sauce
2 teaspoons arrowroot or cornstarch
1 20 oz can pineapple tidbits or chunks in 100% pineapple juice
3 tablespoons rice vinegar
⅓ cup ketchup
1 tablespoon Tamari or soy sauce
1 small clove garlic
Optional: Extra pineapple chunks for serving on a kabob stick.
Cooked Rice for Serving
---
Instructions
Using Beyond Meat Ground, form into meatballs (approximately 1 Tablespoon each) and bake at 350 for 15 minutes on a baking tray.
Put all sauce ingredients into a blender (including all juice from can of pineapple) and blend until completely smooth.
Pour into a pan and warm over a medium heat, stirring constantly until it is nice and thick, for 5-10 minutes.
Cook your baked meatballs in the sauce for about 5-10 minutes on stove top. 
You can take individual meatballs and put them onto a toothpick or small kabob stick with a piece of pineapple on either side. Serve over cooked white or brown rice.
Notes
You can also try using the new Impossible Foods ground vegan meat, available in grocery stores near the Beyond Meat Ground.
Prep Time:

15 minutes

Cook Time:

25 minutes

Category:

Vegan

Method:

Blend, Bake, and Stovetop

Cuisine:

Kosher
Keywords: Rosh Hashanah, Vegan sweet and sour meatballs