New Brunch Recipe!
Inspired by a recipe in Dr. Neil Barnard's, "Get Healthy, Go Vegan," cookbook, I went to town preparing for Mother's Day Brunch. I hope you all enjoyed your Mother's Day, but also didn't feel yucky after eating brunch, lunch or dinner. It's always my goal to create recipes that will fill you up without making you feel bad, mentally or physically.
This does the trick! Also, the reception by my all non-vegan crowd was great. Phew! Way to experiment on company and non-vegan company at that!
This dish serves 6-8. In fact, I ate the leftovers post-workout this morning and it was perfect: filling but not heavy.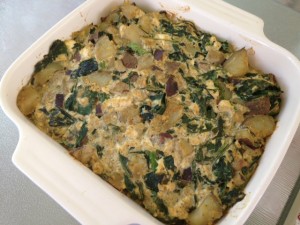 Spanish Frittata (vegan and healthy!)
Ingredients
1 1b mixed greens (I used kale, spinach and arugula)
2 teaspoons vegi zest (Dr. Fuhrman's soup base or similar) and 1/2 cup water
or 1/2 cup veggie broth
2 tsp ground garlic from a jar or 2 garlic cloves, minced
1/4 cup soy or coconut vegan creamer
Leaves from 2 stalks fresh oregano (or use 1 tsp dried oregano)
4 oz shitake mushrooms
3 small cooked white potatoes, diced
14 oz container firm tofu
1/8 tsp ground turmeric
1/2 tsp kelp granules (optional)
1/4 tsp sea salt
1/8 tsp black pepper
1/2 tsp smoked paprika
1/2 cup nutritional yeast
Directions
Preheat oven to 375. Using a wide and deep sauté pan, combine greens, veggie zest and water or broth, and soy creamer. Cover pan and cook on medium high heat until greens are wilted. Add garlic, mushrooms, potatoes and oregano to cook. In the meantime, crumble half the tofu and add it to the pan. Take the other half of the tofu and puree it (I used an immersion blender but you can also use a blender) with the turmeric, kelp granules, sea salt, pepper, paprika and nutritional yeast. Add the pureed mixture to the pan and mix all ingredients together.
Grease an 8 x 8 casserole dish with olive oil. Add the mixture from the sauté pan and bake at 375 for 20 minutes. Let stand for 10 minutes. Serve hot.
Do you have any brunch recipes you want health-ified or ones that you've created and want to share? Just let me know!