Healthy Spanish Rice Recipe & Fajitas for the Family!
I don't know about you, but I love meals where everyone can choose what they want to add to their own dish. Last week I saw a recipe for "Anything Goes Fajitas" on www.JewishFoodExperience.com and decided that was the feast I was going to make for my peeps that evening. We ended up with so many leftovers I didn't need to cook the next two nights. The recipe was supposed to feed a big crowd and I didn't have one. However, I did have a happy me when I didn't have to cook for the next couple nights!
There are several parts to this recipe, so it isn't a five minute prep. However, like most things, you can simplify or make it bigger/fancier and more of an effort. There are also several steps that can be done ahead of time. It's really a great recipe when you are having a lot of people and only want to make one dish. I mean, one dish with 5 parts…. Still, it's all mental. This still feels easier than coming up with ideas for and cooking multiple dishes.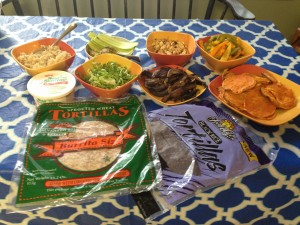 The parts of the feast included:
1. The Marinade (Majorly simplified if you buy fajita spice mix in the store, which, of course, I did not).
2. The Protein (The recipe calls for chicken, beef and tofu. I made the beef for my hubby because I'm just occasionally awesome like that. I made the tofu of course and he also loved that.)
3. The Fajita Vegetables (Onions, peppers, etc….I happened to already have roasted red onion so I didn't take time to saute yellow onion as the recipe suggested. I also roasted the peppers instead of sauteing which cut down on active cooking time. I'd just bought sliced portabella caps and roasted those too).
4. For Serving (Little-prep necessary items like tortillas, Tofutti sour cream, lettuce, cucumbers, guacamole, tomatoes and salsa). I also "mandolined" sweet potatoes and roasted those to serve on the side.
5. For me, the piece de resistance, was my accidental invention: Healthy Spanish Rice!
I made a microwave steam bag of brown rice. (Yes, of course it is healthier to use your rice cooker instead of microwaving in plastic, but I used what I had and it was so easy!). Then I made and mixed in my own recipe for homemade vegan nacho cheese sauce. A little diced red pepper and tomatoes and there you have it: creamy and healthy Spanish rice). I love Spanish rice, but have never been able to make it myself, so this was thrilling.
Recipe
Healthy Spanish Rice
Ingredients
Approximately 3 cups cooked brown rice (the amount depends on how large your crowd is)
1 Red pepper, diced
1 pint Grape or cherry tomatoes, halved or quartered
Optional: 1 can black beans
Cheese Sauce Ingredients
1 cup raw, unsalted cashews, soaked in water for at least an hour
1 roasted red pepper (can be from a jar!)
1/2 cup nutritional yeast
1 tsp garlic powder
1/4 tsp smoked paprika
1/4 tsp salt
1 Tablespoon lemon juice
1 cup almond milk
Cheese Sauce Directions
Put all ingredients into a blender and blend. Done! The recipe makes approximately 2 cups.
Rice directions
Mix cheese sauce into rice and vegetables, a quarter cup at a time, until desired creaminess is achieved.
Optional: Add black beans (and maybe even corn?) to make a main dish. Add salad and you're done!