Shabbat in an Hour and Healthy Chinese Food that actually tastes good!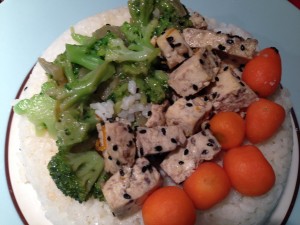 My carnivorous husband asks so little as I experiment on him night after vegan night. So when he asked me to make him Chinese broccoli in garlic sauce I quickly planned a Chinese Shabbat dinner. He even said that I should make it with tofu instead of chicken so that we could both try it together. What a guy!
In the time it would have taken me to order and pick up Chinese, I made it. Not only that, but I felt great after I ate it, not like the crap I usually do after I've feasted on Chinese food from a restaurant. Even eating vegetarian, I don't want to know the oil and MSG I must be consuming. I just know how badly I feel. That's enough information for me and enough motivation to try to do it differently. I hope you'll agree it is worth the effort.
After you make this complete meal the first time, it will be a breeze from then on and Chinese night can take on a healthier meaning at your house. In addition, I hear people say they'll give you "Shabbat in an hour" and it is never true. This is! I promise!
Here is the "easy peasy lemon squeezey" (as my daughter says) menu:
Broccoli in Garlic Sauce
Sticky Rice
Orange Tofu
Parisian Carrots
Total Time, approximately 30-40 minutes.
Serves 4
-First, take the tofu out of the package to drain and press it. [Caveat: If you're new to tofu and it is too much, just buy the kind that comes already cubed and call it a day!] Place a dish towel or several paper towels on top of a salad sized plate. Drain the tofu and place it on the paper towels. Place several more towels on top of the tofu and then place a heavy pot on top. This will cause the remaining liquid from the tofu to become absorbed by the paper towels, leaving the tofu firmer. Ideally you can leave it "pressing" for 30 minutes, but even 10 will make a big difference. You can do this right when you walk in the door from work/carpool or you can do it in the morning and just leave it in the fridge all day.
Sticky Rice
Ingredients
1 cup sushi rice
1 1/4 cups water
Directions
Place both ingredients into your rice cooker, turn it on and move on!
(If you don't have a rice cooker, get one. I got mine for $20 at a discount store and it also steams vegetables. In a pinch, follow the stove top directions on the back of the package.)
-Take the frozen broccoli out of the packages and defrost it in a glass bowl in the microwave (or be a superstar and steam it on the cook top).
-Next, move on to finishing the tofu preparation.
Orange Tofu
Ingredients
15 oz tofu, pressed and cubed
3 Tablespoons agave nectar
1 orange, juice and zest
2 Tablespoons Braggs liquid aminos
1 Tablespoon toasted sesame oil
1 Tablespoon black sesame seeds
Directions
Preheat oven to 350. Remove the tofu from the paper towels and drain any remaining liquid from it. Cube the tofu and place it in a 9 x 13 baking dish. Things will get sticky so you may want to line the dish with parchment paper.
To make the sauce: Combine remaining ingredients, except sesame seeds, stir and pour over the tofu in the baking dish. Sprinkle the sesame seeds on top of the tofu and place in the oven to bake for 30 minutes total. Stir the tofu at the 20 minute mark to make sure the sauce is evenly distributed.
After you've placed the tofu in the oven, get started on the broccoli.
Broccoli in Garlic Sauce
Ingredients
1 onion, diced
4 garlic cloves, minced
3 Tablespoons olive oil
2 large bags frozen broccoli
1 teaspoon ginger powder
dash of cayenne pepper
3 Tablespoons corn starch
1/4 cup Braggs liquid aminos (or low sodium tamari or soy sauce)
1 cup water
Directions
Cook the onion and garlic in the olive oil in a deep saute pan for approximately 10 minutes on medium heat, stirring often. Add water if the pan gets dry.
-While the onion and garlic cook, microwave or steam the carrots.
After the onions have cooked, add the ginger and cayenne to the pan and mix it into the onions and garlic. Add the broccoli and mix thoroughly. Combine corn starch, Braggs and water, mix until the corn starch is dissolved and then pour into the pot. Cook for approximately 5 minutes until the flavors have had a chance to meld together and the sauce has thickened.
Parisian Carrots
Ingredients
1 bag frozen Parisian Carrots from Trader Joe's, or another bag of fancy frozen carrots
Directions
Microwave or steam the carrots. Done!
To make it look fancy: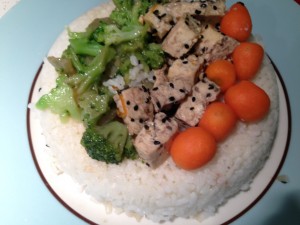 I took the little pan out of my rice cooker and flipped it over onto a serving plate so that it looked like rice in the shape of a pie. If your rice cooker doesn't work that way, don't worry about it! Just place the rice in the middle of a dish and it will be fine. Place the broccoli, tofu and carrots on top in their own stripes. (see picture)
Now, go enjoy your dinner! No MSG stomachaches or headaches at your house tonight!