Egg-free Angel Food Cake Recipe & Tips
If you're allergic to eggs or vegan, you too can have Angel Food Cake! It's not very good for you, but I was excited to find a recipe I could work with. I've always loved Angel Food Cake with whipped cream and strawberries. I'm happy to know I won't have to go through life without it now that I don't eat eggs! It may not be healthy, but it is nice to know I can make it once a year if I want.
My kids thought the batter tasted like marshmallow fluff! My daughter loves to tell me how she knows she can safely taste the batter for my concoctions because there aren't any raw eggs in there.
I found a recipe online that I thought could work. I'm going to give you the recipe along with the lessons I learned along the way.
First, thank you The Vegan Chronicle for the recipe. I'm happy to give credit where credit is due.
You'll find the original recipe at the bottom of this post.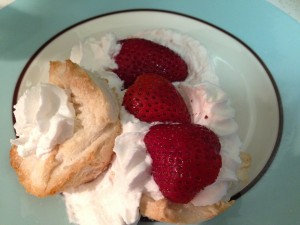 10 Tips & Tricks for Egg-free Angel Food Cake
1. I did not use blueberries because the author (she doesn't provide her name on the blog) said they didn't work so well.
2. I did not make the glaze because I thought there was enough sugar going on with this recipe. It's up to you. I love lemon so the lemon glaze sounds delicious. It's just another cup of sugar I couldn't bear to use. I feel so guilty making unhealthy recipes! 🙂
3. There was no way I was going to hold a hand-mixer for 12 minutes while I waited for the egg-replacer powder to firm up. So, for the first time in 8.5 years of marriage, I pulled out my standing mixer. No wonder people keep that thing on the counter! It must way 50 pounds! (For the record, it hasn't been collecting dust for 8.5 years. My mom has used it. 🙂 Because I was unsure of using it I spent 12 minutes letting it mix on low. That did nothing. I turned it to high (wow is that fast!) and then the concoction turned into something resembling whipped egg whites.
4. I didn't sift the flour and sugar and I also didn't fold it. I didn't sift because I couldn't be bothered and I didn't fold it in (I just put it in while the mixer was going) because I just forgot it was supposed to be folded! It turned out fine, but I'm sure could have been lighter if I'd done the sifting.
5. What the heck is cake flour? I'd never heard of it (except the Passover version) before this recipe. It is super sifted flour. It's about as white and devoid of nutrients (except the added "enriched" ingredients) as possible! I found a brand called Silk in the baking section of my regular old grocery store.
6. I couldn't find my angel food cake pan so I baked half of the batter in a silicone cupcake pan (those took only 20 minutes to cook) and half in an 8 x 8 square pan lined with parchment paper (40 minutes to cook).
7. What is Ener-G? It is egg replacer powder found at health food stores. I've read on some vegan blogs that there are people without access to it. However, you can buy it online from the company that makes it, here. You can also search for where to buy it in your area here.
8. I used a non-dairy whipped creme from the kosher store. Sometimes it is also carried in the refrigerated kosher section of major grocery stores. The recipe was already such a potschke that I just used the chemical non-dairy whip that comes in the canister like regular whipped creme.
9. I found a gigantic container of organic strawberries at Whole Foods for less than a million dollars. I cut them all up and mixed with one teaspoon of sugar to bring out the juices (Ok, Mom, you've converted me on this step!).
10. Have a great time making little strawberry shortcake stacks with your kids. Throw some blueberries on for good measure and you might even start making fun faces with the fruit.
Enjoy!
Ingredients:
For the cake:
1 and 1/2 cups vegan sugar, divided

1 cup cake flour

12 Ener-G eggs

1 and 1/4 teaspoons cream of tartar

1/2 teaspoon salt

1 teaspoon vanilla extract

1 and 1/2 cups blueberries

2 tablespoons cake flour

1 tablespoon grated lemon rind
For the glaze:
1 cup vegan powdered sugar

3 tablespoons fresh-squeezed lemon juice
1. Sift together 1/2 cup of the sugar and 1 cup flour through a flour sifter or fine-mesh sieve into a bowl; set aside.
2. Make the Ener-G eggs in a large bowl (you'll need 6 tablespoons of the powder whisked into 1 and 1/2 cups warm water).  Beat with a hand mixer for 12 minutes, until the mixture is thick and stiff like egg whites. After the first minute, add the cream of tartar and salt.  At about the 6 minute mark, begin adding the remaining 1 cup sugar, 2 tablespoons at a time.
Note: be sure to use your largest mixing bowl for this process – the mixture is going to have a lot of volume.
3. Sift the cake flour mixture over the Ener-G mixture, 1/4 cup at a time, and gently fold in.  Fold in the vanilla extract and blueberries.  Although you could use either fresh or frozen blueberries, I chose fresh.  Next time, however, I might go with frozen since they are smaller and more uniform in size; I found that it was hard to fold in some of the larger, fresh blueberries, and they clumped together in batches, as seen in my final photo in this post.
4. Sift the remaining 2 tablespoons cake flour over the lemon rind in a bowl, and toss to coat.  Sprinkle the lemon rind mixture over the cake batter, and fold in.
5. Spoon the batter into a 10-inch angel food cake pan, spreading evenly.  Run a knife through the batter to break up any air pockets.  Bake at 375 degrees for 40 minutes – I couldn't believe (peaking through the window of the oven) how wonderfully puffed in volume my cake became, and the lovely golden tinge it took on.
6. Remove from the oven and invert the pan over a plate.  If the cake doesn't fall out on its own, use a narrow metal spatula to release it from the sides of the pan; cool completely.  Alas, the cake deflated quite a bit the moment it was out of the oven (the batter was all the way to the top just before opening the oven door), but the sponge-y, spring-y texture remained.
7. To prepare the glaze, whisk together the powdered sugar and lemon juice.  Drizzle over the cooled cake.
Nutrition Info:
8 servings (1 slice), Calories 297 
Tasting Notes:
I still can hardly get over the fact that this cake worked.  The texture was soft and sponge-y and delicious, and there was great blueberry and lemon flavor.  I actually would use less lemon glaze on top, since the tart lemon distracted from the cake itself, but overall, I was so pleased with this dessert.