This post contains affiliate links.
(Psst…Awesome account of Sunday night's 15 minute meal workshop coming shortly!)
I bought a bag of blood oranges from Trader Joe's this week. Besides having fun scaring and delighting my son and his preschool class (we are "fruit family" this week, charged with bringing in the fruit/veggie snacks), I wanted to do something fun for me. Well, first I stained my sweatshirt, but that wasn't very fun.
So this morning ( I'll spare you the details) after a few days of my infamous migraines, I needed to re-hydrate with a natural hydration drink.
Natural Hydration Drinks
As you may know, I rail against the typical hydration drinks with corn syrup and food coloring. When I was training for the Friendship Circle half marathon I'd purchased Drip Drop, this cool hydration powder that can prevent people from having to go to the hospital for re-hydration  – and even save lives in areas where that isn't even an option.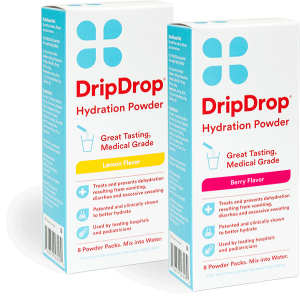 I'd actually only had it once. The lemony taste (it also comes in Berry) was so overpowering, I didn't end up using it for the race. But this morning I wanted to find a way to use it. So I decided to make a smoothie! I hoped that the Drip Drop would be so diluted in the 64 oz that fits into my Vitamix, I would create more of a lemonade effect, versus the sweet lemon bomb, I'd previously tasted. I was right!
Here's the deliciousness I came up with that is natural, hydrating, and gentle on the stomach. Good for sustenance when you don't feel up to eating.
Blood Orange Natural Citrus Mint Hydration Smoothie
2 cups water (this is approximate)
1 packet Drip Drop
4 cups baby spinach
2 fresh mint leaves
– now blend and add…
1 (preferably frozen) banana
1 large (or 1.5 small) blood orange
1 small apple ( I used honey crisp)
Blend again and enjoy!

***By the way, do you have the Healthy Family, Healthy You books yet? If not, you are missing out on dozens of healthy ideas and recipes you can use every day to feed your family well – simply and sanely! Get them today!
Yours in health,
Natasha