First, I'll be off to the Miami Marathon soon enough, to walk the half marathon on behalf of Friendship Circle. The race is January 29, but my fundraising deadline is tomorrow! I have $291 more to raise. Can you help me help children with special needs enjoy friendship, fun and community? Here is the link. I'd be honored if you could check it out and donate. Thank you!
Second, Join me, this Sunday, January 22, for a Jewish Food Experience program at Moti's Market. I'll be handing out samples of my vegan, gluten-free lasagna from 12:30-2pm. (I promise people freak out because they don't believe it is either parve or gluten-free!). If you are looking for the recipe, it's in "The Healthy Mama's Guide to Feeding your family well – simply and sanely," in the meal makeovers chapter.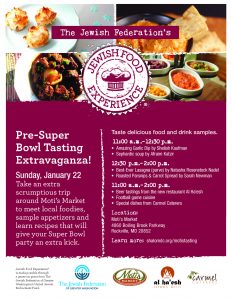 It's going to be a busy day. For those of you who go to Berman (or are seriously considering it), I'll be making edible art with the preschoolers Sunday morning at "Sunday, Funday."
In case you want to schedule a Fruit Funshop for your own school, birthday party, girl scout troop, etc… here is the text for Sunday, Funday.
Fruit Funshop & Edible Art Activity
with Natasha Nadel
of Healthy Family Healthy You
Your children will eat, experiment, play and create their own healthy snack, using fun fruits and veggies!
Hope to see you at one of my fun events this week or in the near future!
Save the date for a Green Smoothie workshop for Chabad of Bethesda's Women's Circle on February 1.