It's a Midwest kind of Memorial Day!
Creamy and delicious!
Rainbow 7 Layer Salad
Here are the 7 layers for your healthy vegan seven layer salad. (I don't have very exact amounts because it really depends on the crowd and this is something you can easily eyeball based on the size of your bowl.) Feel free to mix it up depending on your likes and dislikes.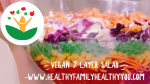 1.      Red – Combo of sliced grape tomatoes (start with one pint) and diced red pepper (probably about
2.      Orange – Shredded carrots, 1 bag
3.      Yellow – 1 bag frozen corn, cooked and cooled
4.      Green-1 bag frozen peas, cooked and cooled
Skipping Blue (But click here for why you should eat blueberries every day. They just don't go in this salad…)
5.      Purple-Shredded purple cabbage, 1 bag
6.      Dressing – 1 cup vegan mayo (such as Just Mayo), 2 Tablespoons fresh lemon juice, 2 Tablespoons maple syrup, a few tablespoons of water to thin if needed.
7.      Coconut Bacon and sliced Green Onions (only the green part)
Note – Feel free to use pre-shredded carrots and cabbage. Fresh will taste amazing, but don't be a martyr if you're not up for it.
Directions
Prepare your ingredients by cooking or chopping. Use a large clear round or oval bowl, not too deep. Layer each ingredient in order, starting with the red layer. When you've finished with the purple cabbage, mix the dressing ingredients in a bowl and taste to adjust any seasonings, add extra mayo, more syrup, etc… Pour the dressing over the top of the salad. Sprinkle on coconut bacon (You can decide the right amount but you almost certainly won't use the whole recipe unless you're really having a crowd.) and sliced green onions.
Voila! You are done! This is a veggie-rich side dish for a traditional bbq or a main meal for vegetarians/vegans for Memorial Day.