This post contains affiliate links.
We all know we should eat our greens. However, it's easy to forget and sometimes hard to figure out easy ways to do it. Here are two easy ways to eat your greens.
Click on the Instagram slider to see pictures of two super easy, delicious, vegan, kosher, whole food plant based, spinach recipes. One is a healthy Strawberry Spinach Salad with protein and the other is a quick way to cook spinach with added sweetness and protein. In addition, it makes a quick plant based and green vegetable side dish.

Strawberry Spinach Salad (oil-free, vegan, gluten-free)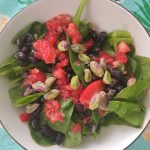 (Serves 1)
1 cup baby spinach
1/4 cup black beans
Dressing (oil-free, vegan, gluten-free)
2 strawberries, chopped
1 Tablespoon light (white) balsamic vinegar
Use a mini-food processor or blender. Or… do what I did: Be too lazy to take out the food processor or blender… and use an immersion blender that didn't fully blend the dressing so it felt more like salad dressing and less like the consistency of a smoothie.
Cooked Spinach Side Dish (gluten-free, vegan, plant based, oil-free)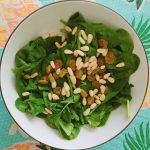 (Serves 1)
2 cups baby spinach
1 Tablespoon pine nuts
1 Tablespoon golden raisins
Microwave the spinach for 1 minute (longer for more servings). Sprinkle on the pine nuts and raisins.