This post contains affiliate links.
Truly, Tu B'Shvat is a reminder that among rows of processed products in the supermarket, Hashem has provided us with all the tastes we need, in natural and delicious forms. We have salty olives, sweet dates, and crunchy almonds. Scientists now tell us that some of the specific fruits of Israel, such as grapes and pomegranates, are especially good for our health and longevity.
Tu b'Shvat is the New Year of the trees. Chabad.org explains that Tu B'Shvat "…serves to separate one year from the next with regard to a number of agriculture-related laws, such as maaserot (tithes of fruits) and orlah (fruit produced by a tree during the first three years after planting, which are forbidden for consumption).
While this sounds boring, it does result in a fun opportunity to celebrate my favorite foods: Fruits and Veggies!
We want to remind children what real food is and help them enjoy it.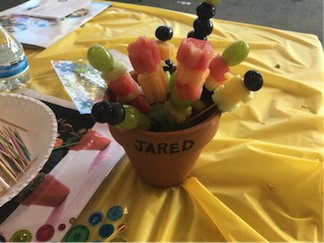 One way to do this is to let them make their own creations in honor of Tu B'Shvat. Here is my original article for the Israel Forever Foundation with all the instructions to create Fruit Bouquets. Encourage your family to try unfamiliar foods and play around with flavor combinations. If all else fails, just have fun!
Idea #2: Tu B'Shvat Chocolate Bark
Even if you are putting your fruits and nuts on chocolate, you're still cultivating an appreciation of the natural foods. Encourage your family members to first taste your dried fruit and nut choices, and then decide what they want to put on their bark. Everyone will have their own unique creation. It's just like at Hershey Park – but probably $40 cheaper!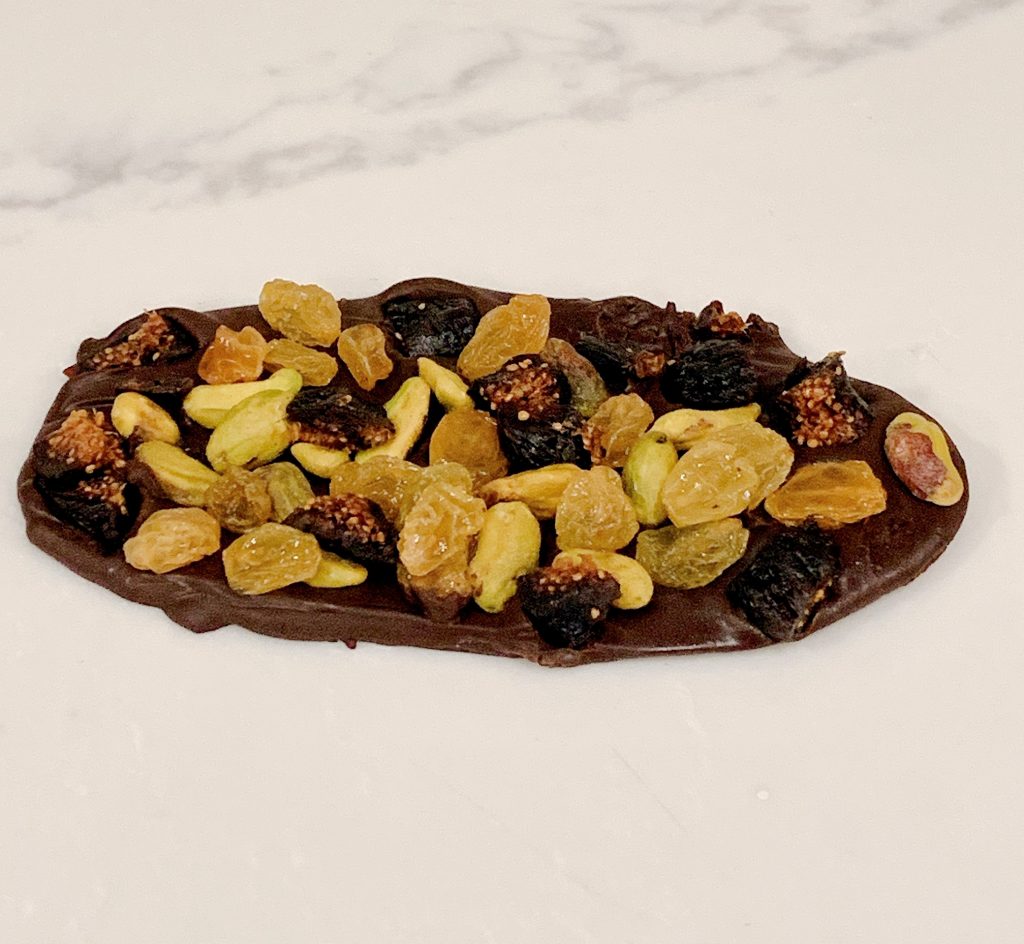 Ingredients: Chocolate chips, dried figs or pomegranate seeds, golden raisins, and pistachios (amounts depend on how much you want to make). At a minimum, start with 1/4 cup semi-sweet or dark mini chocolate chips (I like Enjoy Life) and 1-2 Tablespoons of each topping.
Equipment: Paper bowl, plastic spoon, parchment paper (or a silpat mat), pan or paper plate to put in the freezer, microwave.
Instructions: Melt chocolate in a paper bowl (trust me – you don't want to clean hardened chocolate off of a regular bowl!) in the microwave. Start with 20 seconds and then 10 seconds at a time afterwards. It is very easy to burn chocolate so be careful. Warm a few seconds at a time and then mix, mix, mix. The chocolate will continue to melt as you mix.
Pour the melted chocolate onto parchment paper on top of a paper plate or pan you can put into the freezer. Immediately add the toppings and put the plate or pan into the freezer to set. It will take approximately 30 minutes. You can pour little circles and make your bark like individual cookies. You can also spread the melted chocolate out more and break it into pieces after your chocolate bark is set.
Enjoy Tu B'Shvat and share your creations with Jews Eat Veggies on Facebook.