Planning a healthy and vegan Thanksgiving, Chanukah, Xmas, Thanksgivukkah? You're also invited to read this post if you do plan to eat turkey for Thanksgiving (or even ham for Xmas!). At my family's table, I'll be the only one not eating the turkey at Thanksgiving.  All of my energy is going to go into making sure that everything else on the table is healthy, delicious, and relatively guilt-free! Also, I guarantee, having skipped the turkey and it's "snoozey" effects, I'll be the only one with energy AFTER the meal! If you want energy too, keep reading for recipe ideas!
Just a word on this Thanksgivukkah deal: For the moment, just planning Thanksgiving food is enough. Maybe I'll save my Chanukah efforts for the weekend/Shabbat after Thanksgiving. If I am up for new challenges I'll buy a donut baking pan and make vegan pumpkin donuts. I would serve them for breakfast while the family is in for the holiday(s). On a side note, I don't actually like jelly donuts (those are the traditional sufganiyot served on Chanukkah, especially in Israel). If I'm pumpkined out I'll probably experiment with vanilla and orange donuts. Oooh that sounds good!
In the meantime, let's plan for Thanksgiving/Thanksgivikkuh and whatever else you celebrate!
Because everyone has their own traditions, I didn't try to provide you with a complete menu. However, here are some suggestions you may want to incorporate into your menu:
Mushroom Gravy recipe from Whole Foods
I have never actually made a vegan gravy, but I'd like to try this year.
Maple-Roasted Brussels Sprouts with Pumpkin Seeds from Whole Foods
I may try something new this year and make Brussels Sprouts Roasted on the Stalk. A beautiful picture in a Trader Joe's holiday mag is tempting me. They have the recipe (but sadly, not the picture), online.
Next up, I just couldn't wait to get to dessert! In a sneak preview, here is a pumpkin pie recipe of mine from my upcoming Healthy Family Healthy You book.
Pumpkin pie
Pretty darn Healthy, Vegan and Simple!!! Low fat, low sugar, high impact taste!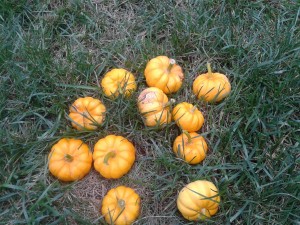 [Full disclosure: The above picture is of my own pumpkins, grown in my back yard. However, I did not use them for the pumpkin pie recipe below because baby pumpkins just aren't ideal for that. For the ultimate baby pumpkin recipe, keep reading.]
Ingredients
2 teaspoons apple pie spice
2 teaspoons cinnamon
½ cup sugar
1 package lite silken tofu (found in the refrigerated section)
1 16 oz. can pumpkin
Instructions
Blend. Pour into a graham cracker crust or pie plate sprayed with cooking spray. Bake for 40-45 min at 350 degrees, or until set. Allow to chill in the fridge for a few hours. Serve with non-dairy whip and/or coconut milk ice cream.
Now that we've dispensed with dessert, let's discuss salad.
You can't get more Thanksgivingish than this Succot Salad I wrote up for www.JewishFoodExperience.com
Here is a link to the permanent PDF of the article.
Finally, I give you the suggestion I give myself when I get overwhelmed about what to cook.
"Remember, you can always just eat the food!" e.g. baked sweet potatoes, corn on or off the cob, etc…
Enjoy and I look forward to hearing all about your Thanksgivukkah menus!