IMPORTANT ANNOUNCEMENT BELOW. KEEP READING!
Okay, so we're not even halfway through Hanukkah and I can't believe the gluttony! No judgment here; I promise. Everyone who has a party has to serve donuts and latkes, right? And cookies shaped like menorahs and dreidels with food colored sprinkles… Seriously, I'm not giving you a hard time. It is what it is right now. So what to do?
If you do one thing for your health this week….(or during the entire holiday season):
1-Have a contest with yourself or a friend/spouse. Who can eat the most types of fruits and vegetables each day? That way, you'll keep your nutrition up and your calories down during the day. This is similar to last week's suggestion of making sure that what your kids do eat during the day this week is really whole food with as many nutrients and as little fluff/processing/fake food as possible. For instance, a banana and nut butter instead of a granola bar. Try to skip any processed carbs. Just make sure you eat enough starchy vegetables/legumes during the day so you aren't famished at night. For instance, beans (great protein source too!) and butternut squash are great options to keep you satisfied. Throw in a green smoothie as the vibrant greens will just make you feel better all around. A happy person is not one who has to eat half of a buffet to feel satisfied.
2 – That's another important tip actually…If your main pleasure of the week is stuffing your face every night, make sure to examine why that might be and find other activities to feed your soul. Like the theory of giving experiences instead of more things many of us don't need…Enjoy yourself at your celebrations, do Hanukkah crafts with your kids, or something else that isn't all about eating fried food. It is possible to have a reasonably healthy Hanukkah and a healthy holiday season. Quality family time can even mean a walk together before you light candles.
IMPORTANT ANNOUNCEMENT
If you really want to have a healthy hanukkah, and/or a healthy holiday season, please use the Healthy Family, Healthy You books as a foundation and a daily resource. If you're looking for green smoothie recipes, a healthy dinner that comes together in 15 minutes or less, an action plan for your entire family, and over 100 easy peasy lemon squeezy recipes, please check out The Healthy Mama's Guide to feeding your family well – simply and sanely!…and…The Healthy Family, Healthy You Cookbook.
DEAL OF THE WEEK!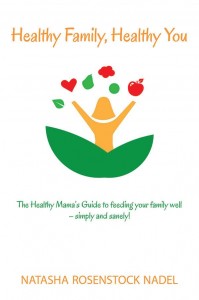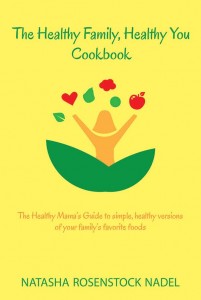 The full price cost of The Healthy Family, Healthy You 2 book set is $36, signed and delivered (locally) by moi. 2 sets is $72.
If you order two sets before the end of Hanukkah (this coming Sunday), you'll receive a BIG DISCOUNT. Buy two sets (one for you, one for a friend or sister or friend that is like a sister?) and, instead of $72…you will pay only $50! That's over a 30% discount and something I have never done before (and probably will never do again). I will do my best to deliver at your convenience over the next few days and will definitely deliver by Sunday.
If you are not local, well, the 2 book set is still the perfect gift for yourself or others for whatever holiday you celebrate. Good health is always the perfect gift. If you are not local, you should order from Amazon and receive the books in 2 days with free shipping, whether or not you have Amazon Prime.
Email me at natasha@healthyfamilyhealthyyou.com pronto! I look forward to celebrating a healthy 2016 with you! (See my Facebook page for more information on how to do that with your family and friends!)