This post contains affiliate links.
What a great way to start off to a healthy new year! I've just returned from the Hazon Food Conference, an event I've had the pleasure of covering for various Jewish publications 4 times. This year, I presented my new signature workshop, "Three Secrets to a Healthy Family, and a Healthy You," and participated in the author book signing and sale.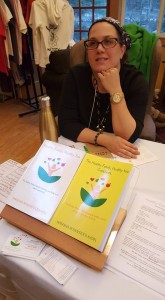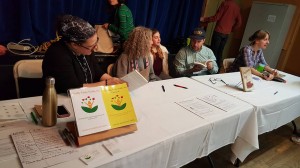 Photos by Alexander Rapaport
(For more workshop info, go here). Here's a link to past conference blogs and coverage, including the famous LA Jewish Journal goat cover!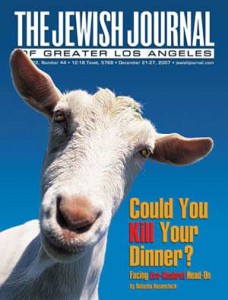 We had so many great discussions that I didn't even get through all of my material. I know I prepared correctly though because I was able to answer most of the questions with information I'd planned to present anyway. People have so many questions in the areas of nutrition, healthy recipes and feeding kids well, I had questions before we even started. They were great ones too, like what to give kids for breakfast, traveling (not necessarily with kids). quick and healthy meals, and how to give an underweight kid more calories without resorting to ice cream.
Here are the answers in case you were wondering…
Good breakfasts for kids (These are all in my books, but I'll also link to original versions that I've published on my website):
Green Smoothie with nut butters or seeds like chia or hemp.  You can even sprinkle the hemp seeds on top and eat them off with a spoon or using your straw.
Tofu scramble and Overnight Mueslix
Chia seed pudding
Easy Granola Bars/Chocolate Chip Cookies
Mini Chocolate Chip Banana Muffins
Travel tips
https://jewseatveggies.com/3-ways-to-stay-healthy-on-the-road-3-recipes/
Chia seed pudding is also an easy meal or snack to make on the road.
How to "Fatten up" kids without resorting to ice cream!
Healthy but higher in fat and calorie foods (for underweight kids)

Fruit salad topped with cashew cream.
Avocado boats! Split 1 avocado in half. Detach the avocado flesh from the skin of one half of the avocado. Mash it inside the half. Mix with lemon juice or salsa, depending on your child's tastes. If you're packing a lunch, know that the flesh could turn dark on top if an acid, like lemon or lime juice, is not mixed in. Place a toothpick in the narrow side of the half for your flagpole. Then use fun kid's tape to make a little flag.
Energy bites made with nuts, cacao powder and dates.
There may have also been a question about quick and healthy meals. My Healthy Mama's Guide has the Magic 8 Authorized Fast Food List. That and The Healthy Family, Healthy You Cookbook both have numerous super quick meal ideas. In that vein, I must insist you believe me that the information, strategies and recipes in my books apply to everyone, single, living alone, or with 10 kids!
Look for upcoming blogs that came out of the Food Conference, including "Greening your Kiddushim" and "Reducing Food Waste with Delicious Recipes!"