Another year, another garden report! I can't quite declare success. Our tomato plants went crazy for some reason and kind of took over everything else. However, they didn't produce many ripe tomatoes because the plants grew so big that our supports weren't enough. Next year we'll have to start out by caging the tomatoes. Or, as I always say, maybe skip the garden and spend the money paying higher prices at the local farmers market! But my son gets so excited about his garden with grandma, I just can't break his heart and say no.
Could you say no this kid? See below. He is so proud of cleaning out the garden with grandma and picking his sweet potatoes. I was looking out the kitchen window and he was saying, "ta-da"!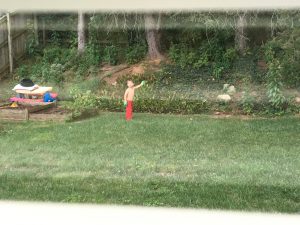 And no, I have no idea why he demanded to wear fleece pants but refused to wear a shirt on this hot day!
We did enjoy basil, mint, parsley and the occasional cherry tomato from the garden. We also enjoyed going to the farmers market where the kids picked out their own baby cantaloupes, bright yellow crookneck squash, and blueberries. In the meantime, my son is enjoying the garden at his new school and telling his class all about his home garden.
See below for the pizza we made using the squash (sorry for the photo quality!). Some used real cheese, some nutritional yeast, and some used vegan cheese.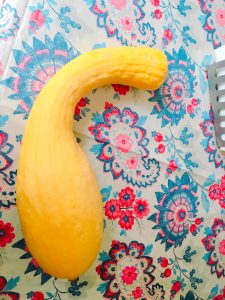 I sliced the squash thin and lengthwise, using a mandolin.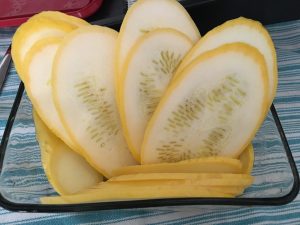 Isn't that pretty?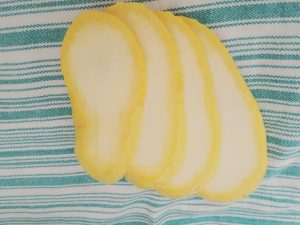 Lay the slices out on parchment paper. Heat oven to 350.
Add sauce, oregano, garlic powder, your favorite cheese (or vegan cheese or nutritional yeast) and tiny diced veggies if desired.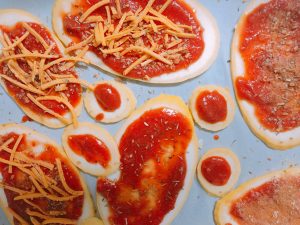 Bake until warmed through, softened and the cheese is melted. (Approximately 10 minutes)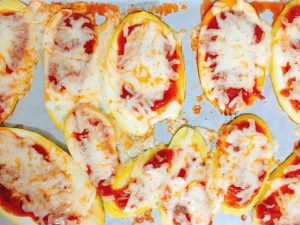 What fun, healthy pizzas do you make? Head on over to my facebook page and tell us!