Is it possible to feel lighter after a two-day holiday? Yes! It is. Here's how I did it.
I saw a (health-conscious) friend in carpool the morning after Rosh Hashanah ended. I asked how her holiday was. She said something like, "Oh, you know, great, but fattening. How was yours?"
My answer? "Um, actually, it was amazing. Actually, really healthy!" I hadn't even realized how good I felt until I had this conversation.
You may have read my blog post about ways to enjoy a bountiful and healthful Rosh Hashanah – or really any holiday – and also one with a couple of healthy holiday recipes published by the Israel Forever Foundation.
For more healthful meal ideas (Succot is coming soon!), stay tuned for four salad recipes, published last week in The Jewish Press's lifestyle magazine.

Still, I was surprised at my realization. I drank some wine. I enjoyed three-hour lunches with friends and family. I probably consumed a little too much sugar. BUT – what I didn't have…(besides my usual lack of animal products like meat and dairy) is bread or much of anything else to eat outside of these meals. In fact, the day I was hosting a big lunch (and of course attending hours of services in between meal prep), I didn't have time to eat anything but a few grapes until lunch started at 2:30! Anyone who knows me well knows I never skip breakfast.That's the power of a big holiday. At that rate, maybe Yom Kippur won't be too hard this year! Actually, it probably won't. Why? Because I haven't eaten wheat in several weeks. Without the usual blood sugar ups and downs from processed and packaged foods like most bread and baked products, I no longer get "shaky hungry," or feel like I'm going to throw up from not eating for too long.
I'd be interested to hear your experiences in this area. Do you get that way? Have you in the past? What's the difference for you? Sugar? Bread? Go to my facebook page and let us know. Or email me at natasha@healthyfamilyhealthyyou.com. 
In addition, I followed my own advice from the aforementioned blog: I didn't eat dinner. When you finish lunch at 5, you really don't need to eat dinner! If I felt munchy for some reason, I just ate some of the leftover crudites from Monday's lunch and drank water. We made kiddush and motzi (blessing over bread-signifying a meal) with the kids and gave them dinner, because, being kids, they were too busy playing to eat lunch. As soon as the lunch food was put away and they said, "I'm hungry," we said, "Great – time for dinner!"  For motzi, I used spelt matzo. It's very light and doesn't affect me like wheat does.
When people want to know why I'm on this no-wheat kick (I can see the eye rolls at the news of my latest mishigas), I tell them that last year after two weeks of succot, etc… letting myself enjoy challah at every holiday meal, I was doubled over in stomach pain. I'm always trying to give it up consistently. How did I actually do it this time? I basically bet my friend that I'd give her $100 every time I cheated and ate wheat. It's like my own private diet bet app, without all the hassle. I'm done feeling bad about myself because it is so much easier for me to keep commitments to others and not to myself. I'm not going to waste time on that. Instead, I'll just use this information to create ways to succeed in the commitments I want to keep.
For all my claiming there is no need to "make everything a kugel, I actually did do that for the meal I hosted. BUT, no eggs, no flour. Totally different than the usual idea of what a kugel is. Of course, I also served tons of raw veggies.
Here's a closer look at two items off of my Rosh Hashanah menu (Feel free to use for succot or anytime.). I'm sorry I don't have pictures, but it was yontif (holiday) so I couldn't take any photos.
Vegetable platter
You already know this is my shtick. Because I was making so many darn kugels, I needed this to make itself.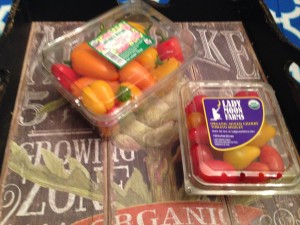 My platter included little tiny zucchinis, baby multi-colored peppers and tomatoes, baby rainbow carrots, celery sticks (the only vegetable that required any cutting time), pickles, olives and hummus.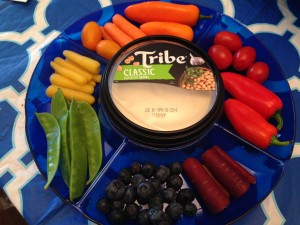 My Kugel…
Print
Description
Make this dish ahead of time and use my shortcut ingredients. This is a veganized, gluten-free version of one of my husband's favorite holiday recipes. It was one of a couple his mom gave me when we got married, so I knew it was an important one. Some of the ingredients I removed from the original recipe include breadcrumbs and eggs.
---
1

12 oz container silken tofu

1 teaspoon

chopped garlic (from a jar is fine)

2 Tablespoons

nutritional yeast

1/2 teaspoon

salt

1/4 teaspoon

black pepper

2

Gefen cubes frozen sauteed onion, defrosted (or saute

half an

onion yourself)

1

can creamed corn (For a firmer texture and less sugar, use 1

15 oz

can plain corn)

20 oz

bag frozen chopped broccoli, defrosted (approximately

6.5 cups

)
---
Instructions
Heat oven to 375.
Grease a 9 x 13 pan with coconut, olive or grapeseed oil.
Add the tofu, garlic, nutritional yeast, salt and pepper to a bowl.
Mix with an immersion blender until all ingredients are incorporated well.
Add the onion and corn and mix well.
Add broccoli and mix again.
Pour mixture into your pan.
Cook at 375 for approximately 40 minutes or until the top is slightly browned. The kugel will still be a bit jiggly at that time.
Cool completely to allow it to firm up.
It's best if you can refrigerate the kugel overnight and then reheat for your meal.
Notes
In trying to create a vegan version of my mother-in-law's Broccoli Corn Kugel, I was inspired by a recipe for Vegan Broccoli Kugel from www.lonestarplate.com.
Prep Time:

15 mins

Cook Time:

40 mins

Category:

Side dish

Cuisine:

American