I hope everyone is enjoying their holiday season! As promised, here are the two pages of my salad/appetizer recipes recently published, in advance of Sukkot, in The Jewish Press. This is clean eating at its best!
Click on the images below for a larger view of the recipe pages.
Recipes include:
Cucumber, Carrot and Lemon Kabobs
Orange Avocado Salad
East Jicama Mango Salad
Avital's Cucumber, Carrot and Lemon Salad
(My daughter's first published recipe!)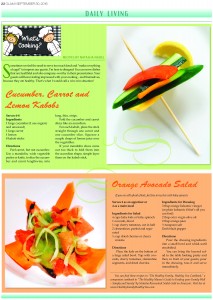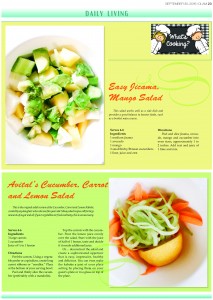 These recipes are all in The Healthy Family, Healthy You Cookbook. Do you have both books yet??? If you don't, you are missing out on super easy, healthful recipes and more. If you want to have a clear vision for your family's health and get your kids more involved in the kitchen, I'll tell you how to do just that!