Not, raw, (see Passover Part I post here) but something healthier (than the usual Pesach fare…). I'm looking forward to making (instead of matzo meal pancakes or matzo brei), this recipe my sister shared with me. The recipe is either for "Paleo naan" or a paleo (or Passover!) crepe. My sister's instructions: to make it ;Passover naan: add kosher salt; to make it heavenly: add a pinch of kosher salt and minced garlic.
For the crepe type pancake, use less batter and spread it around the pan in a thin layer.
I will add that for a traditional type pancake, add cinnamon and pour batter thicker and in a smaller circle than you would for a crepe.
The three main ingredients are: tapioca flour, almond flour and coconut milk. For Passover versions of these, check your local kosher store. Here, Shalom Kosher has the tapioca and almond flours and is supposed to get the coconut milk in shortly.
Let's give credit, where credit is due… Here is the link to the original recipe.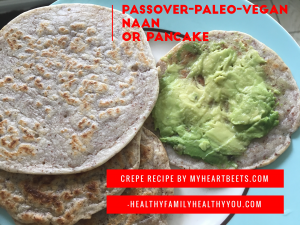 Let me know how it goes! For more information, recipes and tips, be sure to see my previous Pesach posts. Also feel free to contact me on Facebook.  Hit "Like" while you're there if you haven't already and tell us what you're making!