This post contains affiliate links.
If you read this blog, you're probably looking for ways to eat well during Passover (or anytime!). Vegan or not (and let me tell you – it ain't easy for Passover!), we all want fresh food with plenty of vitamins and fiber that won't weigh us down like all the heavy matza and meat!
I've got the answer for you. How to have a healthy Pesach: eat raw food. Lucky for you and me, I have an amazing new resource that I mentioned recently. I cannot recommend this book enough (And thank you to my friend who recommended it to me!):
Click here to buy The Fully Raw Diet by Kristina Carrillo-Bucaram for yourself or a loved one.
Note – if you are looking at this in your email inbox, you might not be able to see some images. View the post online for a full view.
Your One Ingredient Recipe for Watermelon Juice
Now, this recipe is in Kristina's book. However, I've already been doing this with my vitamix for quite a while. Most people don't have a juicer, much less one for Passover. I did recently buy a juicer (although I won't have it for Pesach), which you'll hear all about very soon! What you can do with a simple blender on Passover, is make watermelon juice!
Simply scoop out the watermelon flesh, blend and strain with a mesh strainer. For instance, this morning I used half of a personal watermelon and got an entire quart of juice out of it.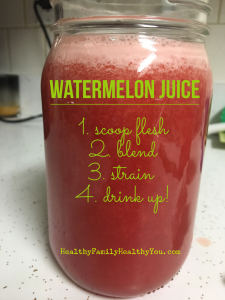 It's important to start your day LIGHTLY during Passover, especially the mornings after the seder. Give your digestion a break, while providing it with nutrients and energy. In other words, chill out before you run to make the matza brei!
Tips to eat more raw food for a healthy (vegan, if you so choose) Passover:
One of my perennial tips for healthier holidays is to only eat one big formal meal per day. Take your seder leftovers and throw them on a bed of greens. Make your own salad dressing! Most of the packaged salad dressings for Passover are nothing but artificial additives, thickeners and sugars. Blend some avocado and fresh squeezed lemon juice and pour it on for a rich, filling meal. Skip oil as much as possible for your salad dressing because you certainly are getting enough in your potato kugel, etc… all week. In fact, one of the dressing recipes in the Fully Raw Kristina book (see above) is strawberries, a mandarin orange and lemon juice. I'm not into fat-free if it is good fat. However, your body is going to be assaulted by so much bad fat, you might just want to eat as lightly as you can, when you can.
Make it fun! See my Passover post from last year about making Passover fun and healthy for and with your kids. Invest in a set of fun veggie cutters, a fry cutter and veggie spiralizer for this and future Pesach holidays. If you don't switch all your dishes for Passover, you have no excuse. 🙂 Buy these items, use them now and all year round! (If you can't see the links to these products, view in browser, not email. If you can't see in browser, turn off your ad blocker).
3. When in doubt, just serve the food. This is what I mean: Three years ago, my first vegan Passover, I went nuts trying to make every possible vegetable (and nut!) in every possible form. It seriously almost broke me. I'm thinking of the Kveller headline I saw today, "My Passover Anxiety is No Joke," by Jordana Horn. I cleaned, moved dishes in and out of my kitchen for a week and then I cooked non-stop for 10 days. It was like the Passover Vegan Army basic training boot camp. I cannot and will not do that again. So, when in doubt, open the fridge and make a fun platter with whatever raw produce you have. You can also put each type in one bowl and spread out the bowls. You can also put different foods that are all the same color together. This is classic Healthy Family, Healthy You modus operandi, but we all need reminders this time of year. If you need more inspiration, remind yourself how to make fruits and veggies beautiful with this blog post. You can also do this for your Seder meal. Make it easy with a big veggie platter instead of a million side dishes and salads.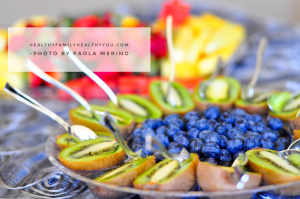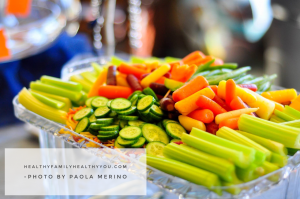 4. Trust that no one will starve, but they may feel really yucky from eating too much processed Passover foods. It's like going gluten-free. You can use that as an excuse to eat whole, unprocessed foods; or you can use it as an excuse to eat every form of gluten-free substitution. They are sans gluten but full of other forms of refined flours, and sugar; and empty carbohydrates and calories. Yet another reason to make fruit and veggie platters! Let the kids help make them.
5. Check out the rest of my previous Passover Posts for more healthy tips, resources and recipes.
Stay tuned for Healthy Pesach Part II!