Tomorrow night, Yom Kippur – and a day long fast – begins for many of my readers. What to eat before the fast and what to eat after for "break fast"?
If you don't yet know what you're eating before the fast I have the perfect recipe. A split pea lentil soup where all ingredients come from the pantry. Isn't it exciting to have an easy recipe you can rely on and that you can keep all of the shelf-stable ingredients on hand? Here it is. It takes 45 minutes to an hour to cook, but you can do anything you want during that time. Simply stir every 10 minutes or so.
I want to make sure you know that eating 10 donuts before a fast won't actually keep you full. In fact, over-eating in general will not necessarily keep you full longer. In addition, eating sugar that will metabolize quickly will leave you grumpy, hungry, and even make it hard to sleep.
This split pea soup recipe is fantastic because it is nutritious and delicious and full of fiber and protein. That's what really keeps you full. Your body knows it received the nutrients it needed and you can move on. Please don't eat until you want to puke. It will not help you.
On to "break fast"… The typical bagels with cream cheese and lox does feel great after a fast. I keep things simple around here. I usually choose an oat flour bagel for myself, Tofutti cream cheese (I know – not exactly unprocessed), sliced cucumbers and tomatoes. I skip the salmon lox of course, but I do miss the idea of the taste.
Last year I tried a carrot lox recipe that I have to say didn't impress me in any way. It didn't taste like lox and took tons of time that was not worth it.
This year I am trying a different recipe. Check it out. I'll let you know how it goes. Let me know if you make it too! It takes a day to marinate. I think I'll try it with rainbow carrots…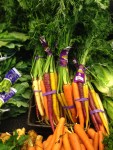 Have an easy and meaningful fast!